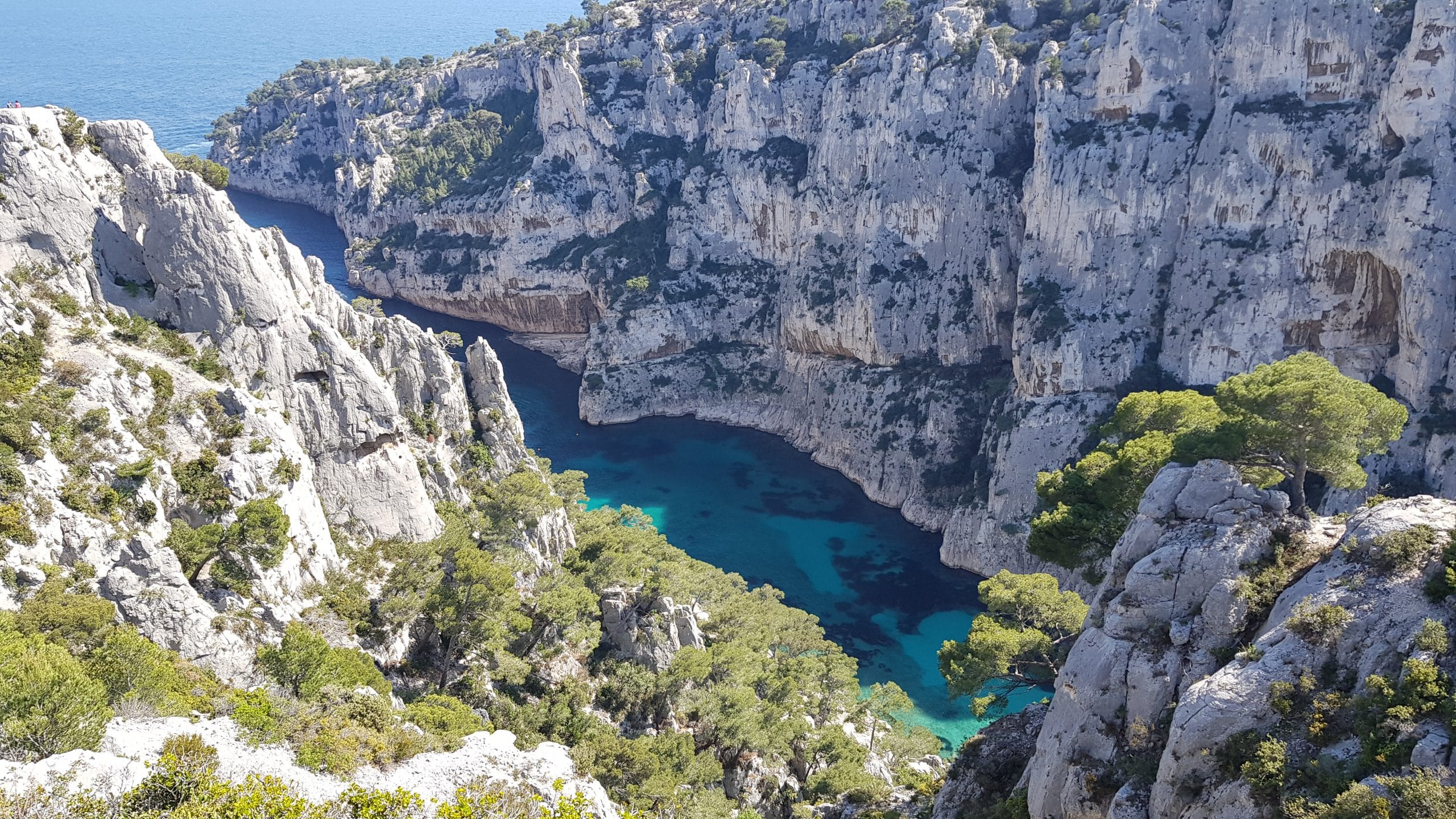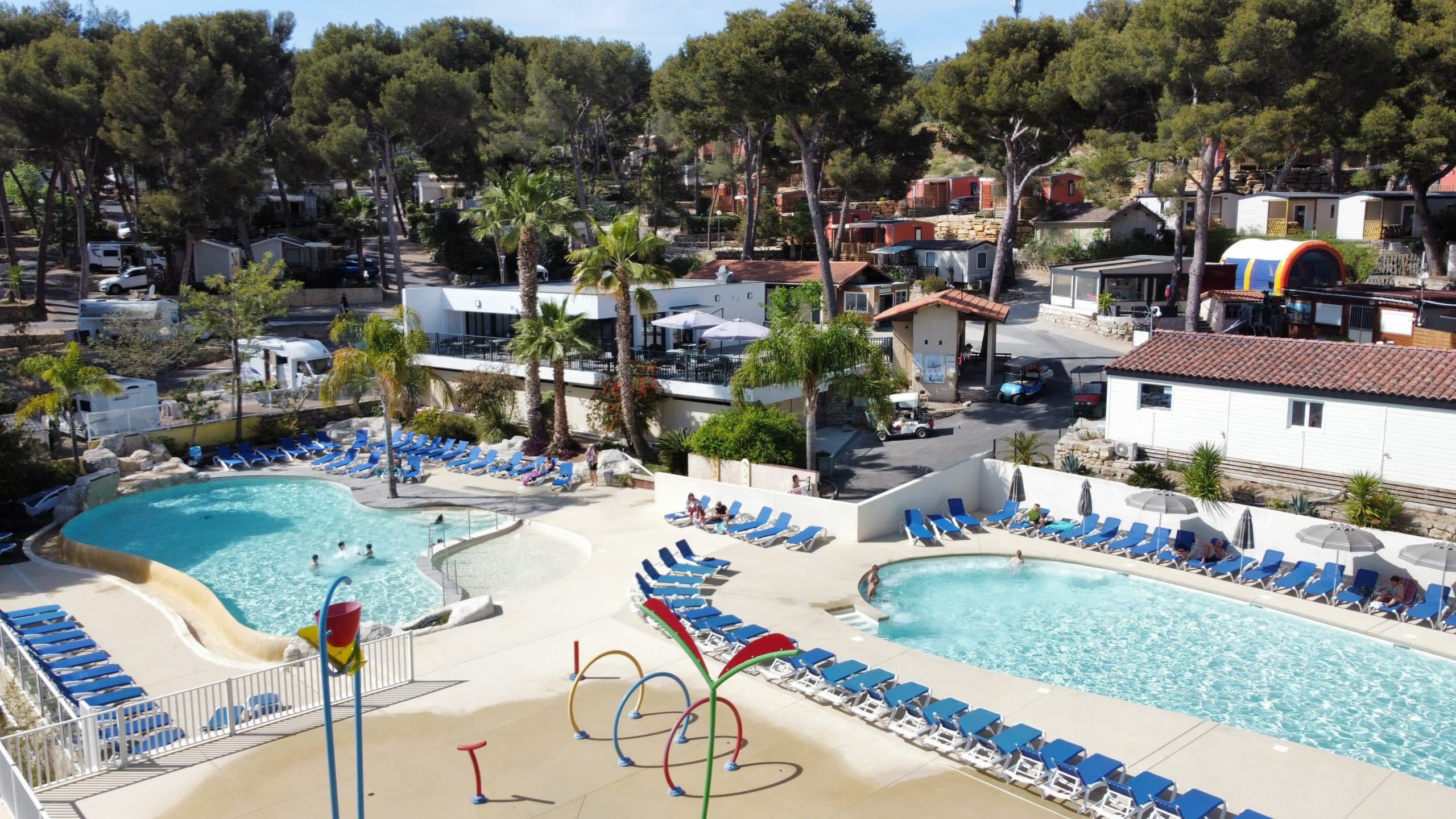 More than 1300m²
of aquatic space

In the heart
from the pine forest
4 STAR CAMPSITE BETWEEN LA CIOTAT AND CASSIS
The 4-star Ceyreste campsite is located in Bouches-du-Rhône, a few kilometers from the beaches of Cassis and La Ciotat, on the edge of the Var department. Our campsite in Provence Alpes Côte d'Azur is close to the largest sites in the Pagnol region: 1 hour from Aix-en-Provence and the Sainte Victoire mountain, 20 minutes from the town of Aubagne, 25 km from the Garlaban massif, and 13km from the port of Cassis. Stay at our campsite near Cassis, our holiday residence is a few meters from the beaches. Ideal for sightseeing in Provence!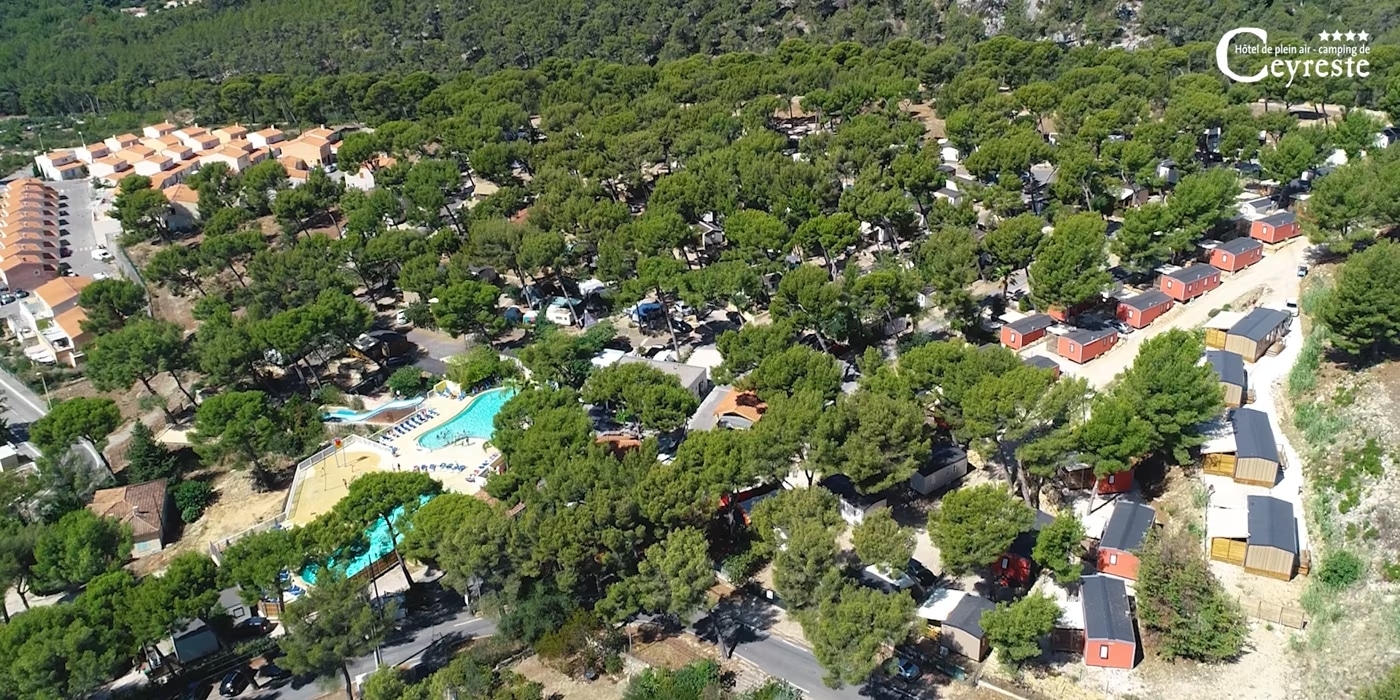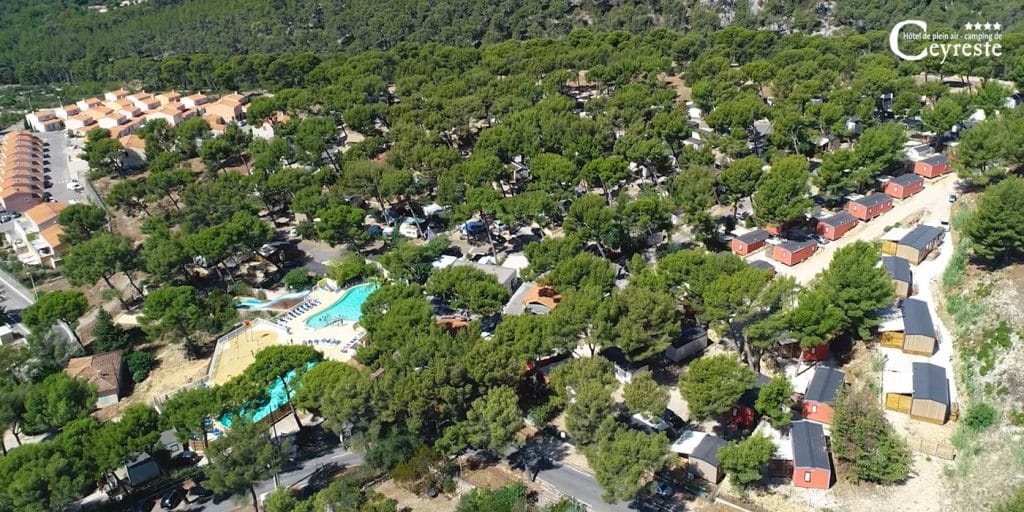 The campsite is open from 01/04 to 30/12/2023 (then from 03/29/2024 to 01/04/2025) for mobile home rentals and for campsite pitches.
Animals are accepted at the campsite (except 1st and 2nd category dogs and NACs). Only one dog per rental weighing less than 6 kg
Payment methods: Bank card, ANCV holiday vouchers, cash.
Please note bank checks are not accepted on site.
The reception is open according to the hours below:
April, May, June, September: 8:30 a.m. to 12 p.m. – 2 p.m. to 6 p.m.
July, August: 8 a.m. to 12 p.m. – 2 p.m. to 8 p.m.
October: 9 a.m. to 12 p.m. – 2 p.m. to 6 p.m.
November, December: 9 a.m. to 12 p.m. – 3 p.m. to 6 p.m.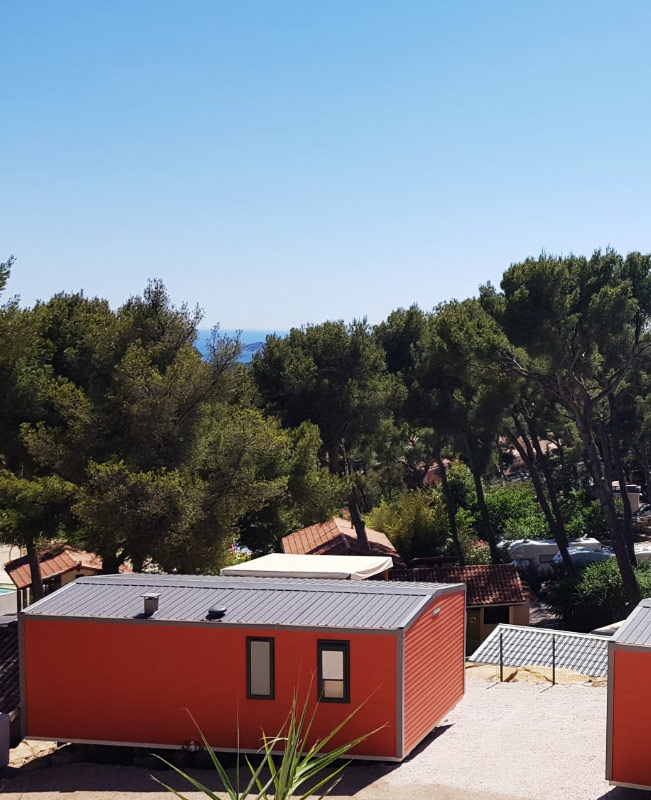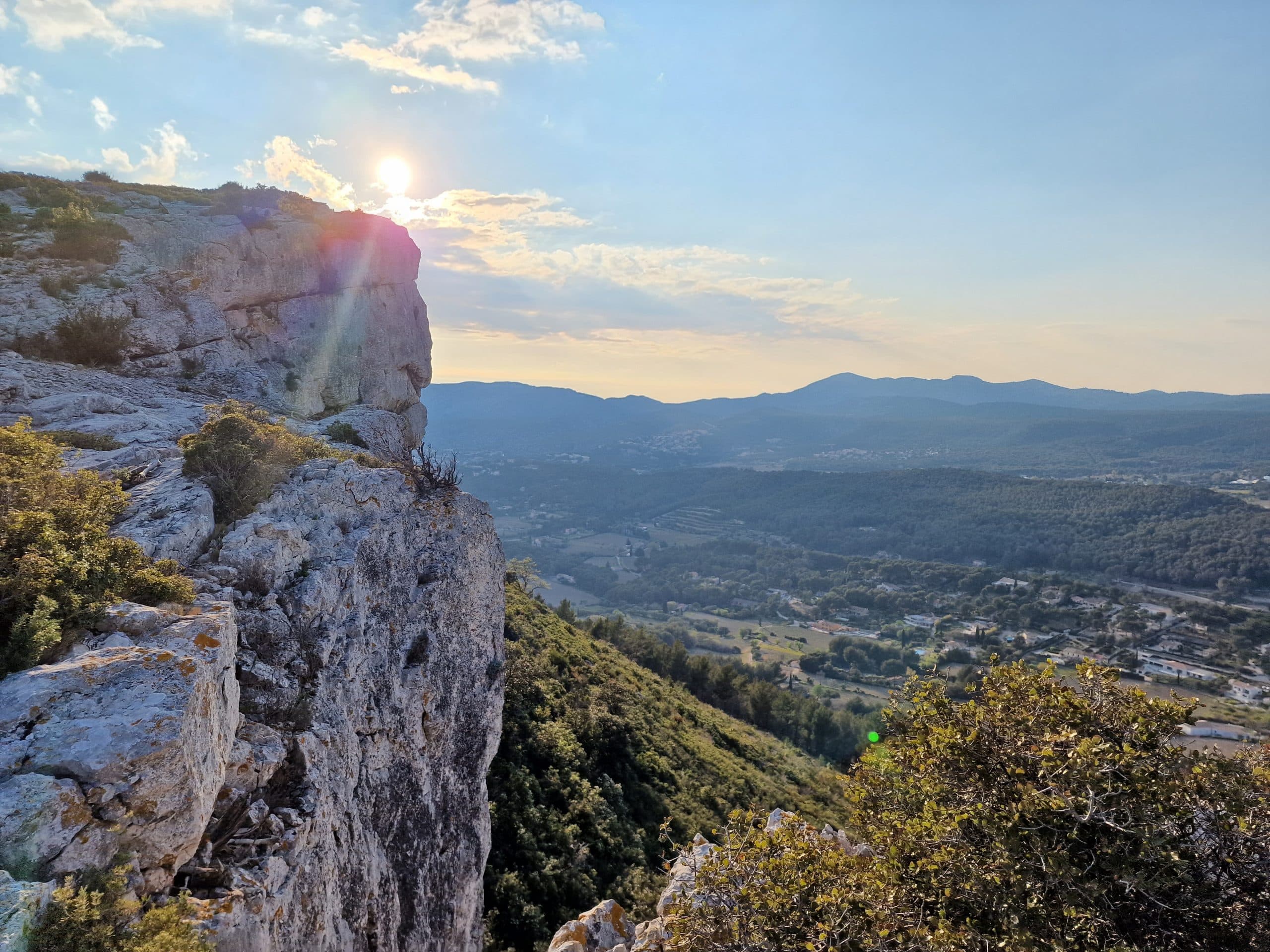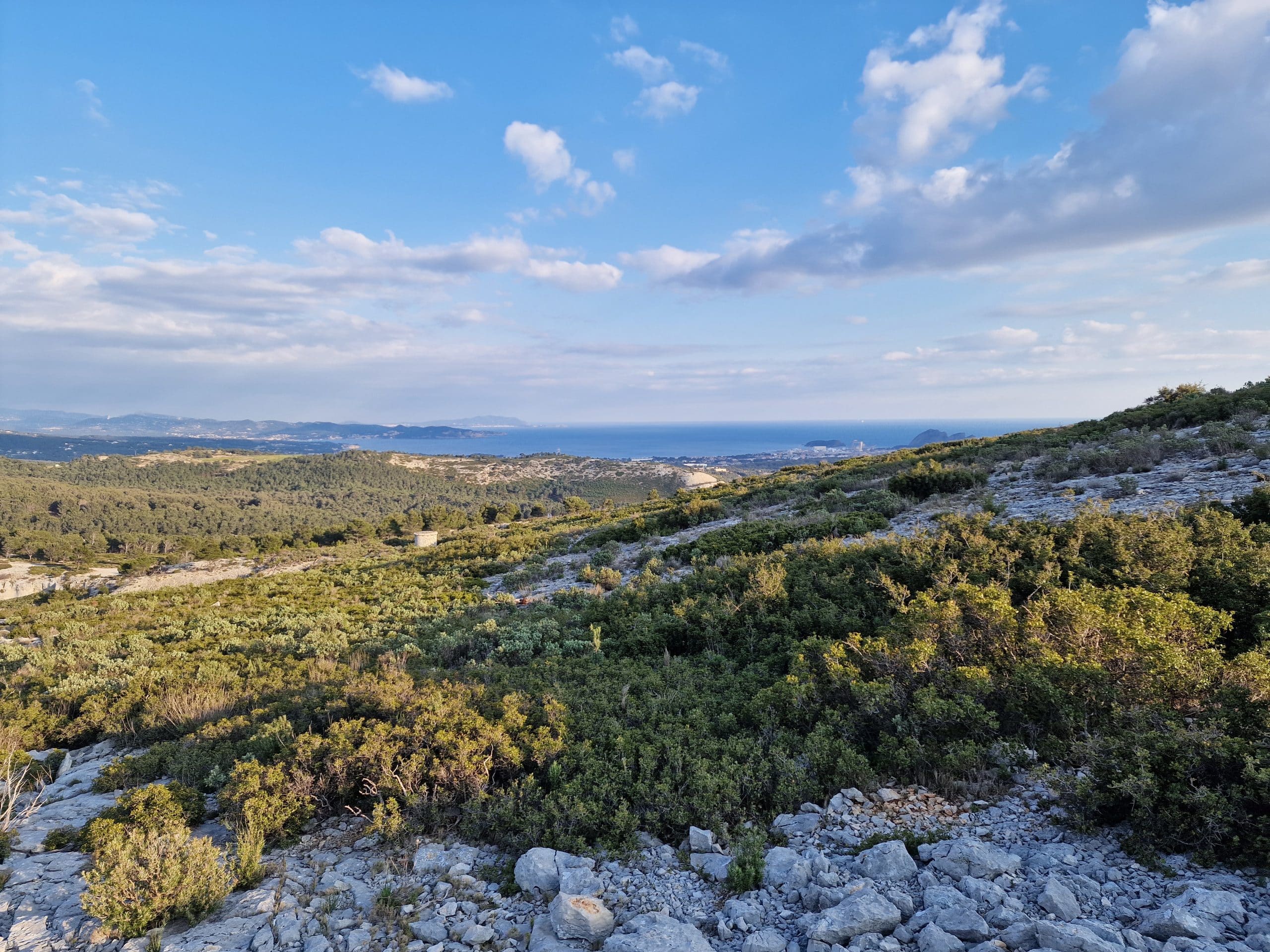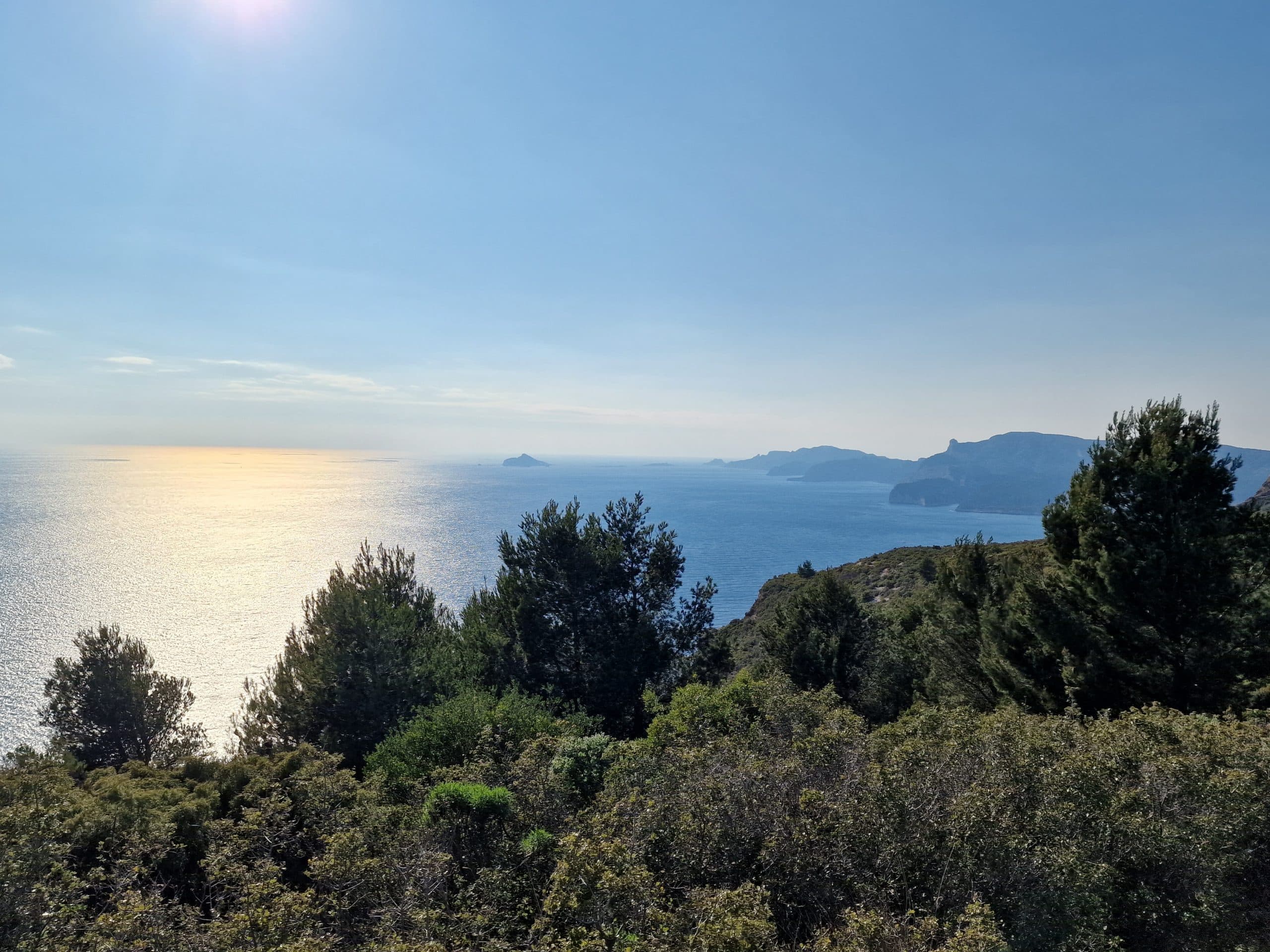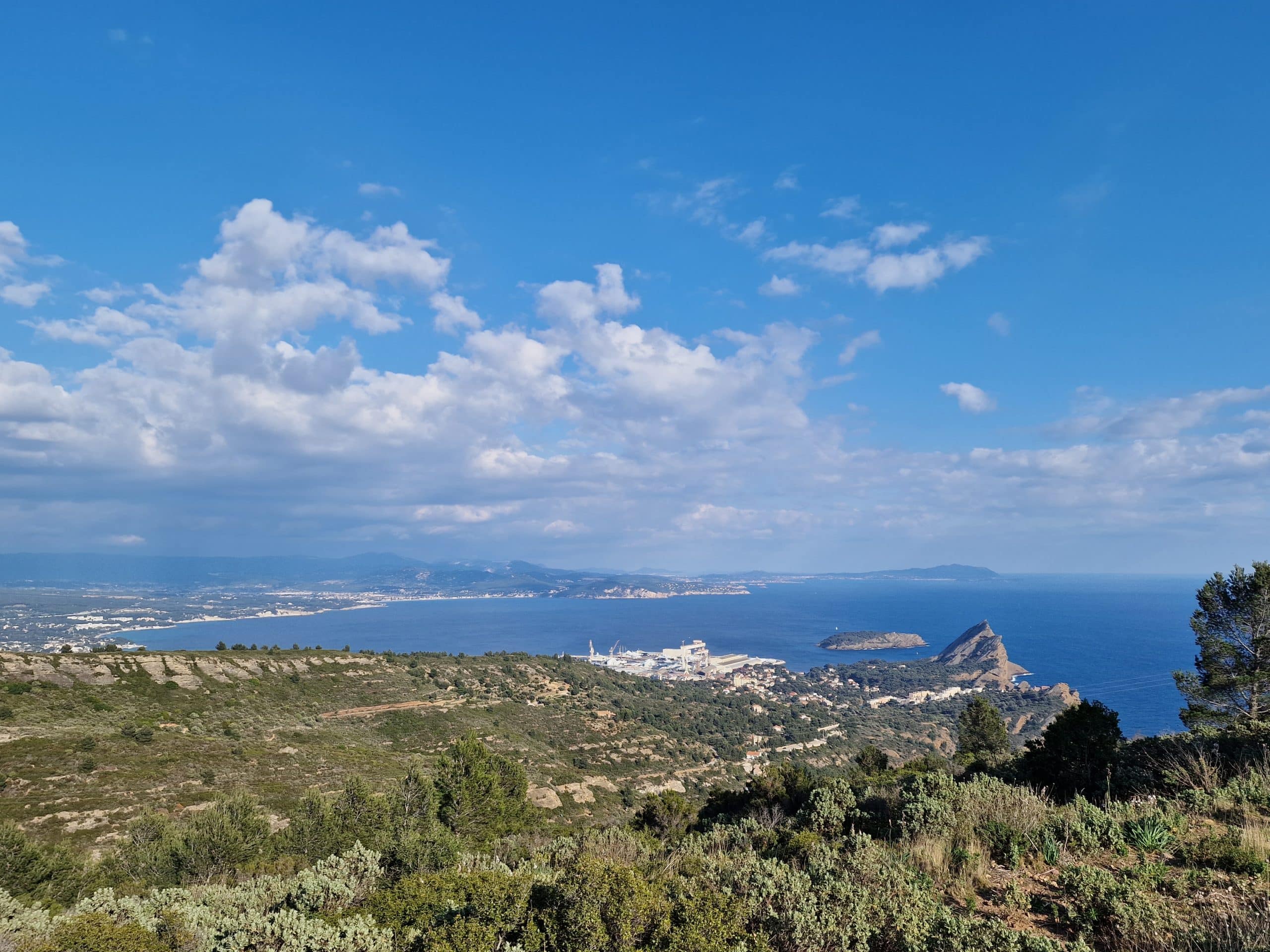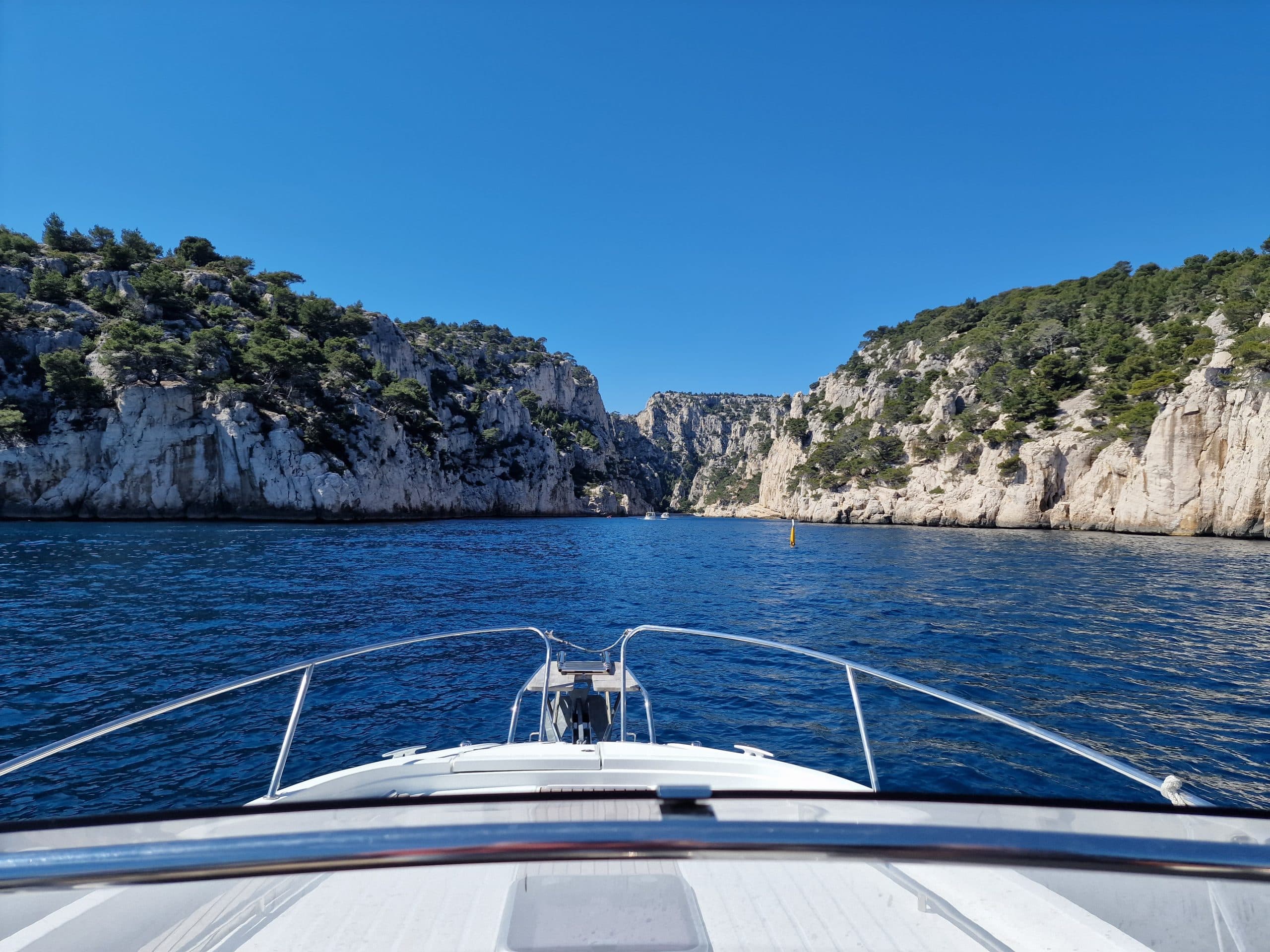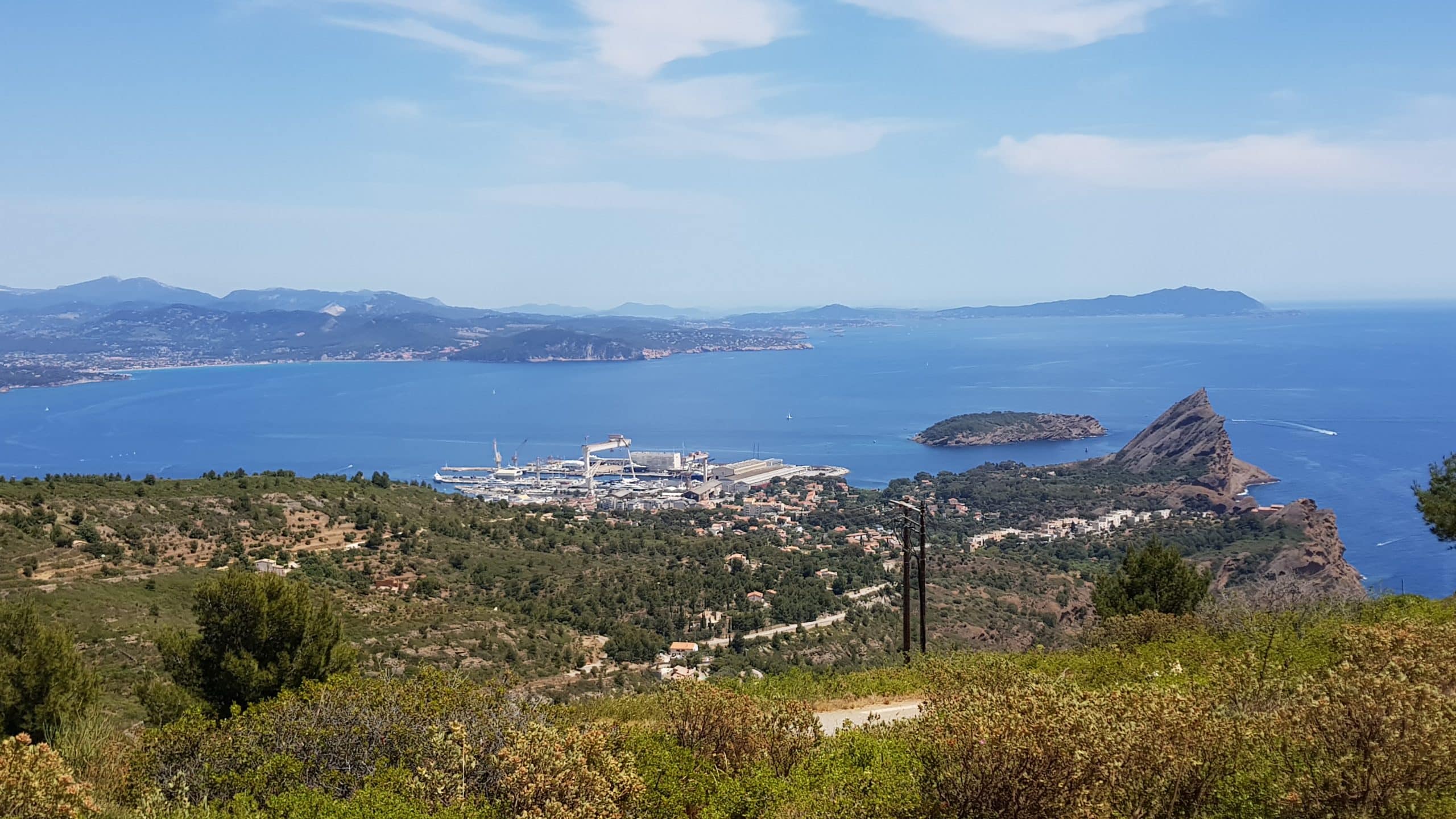 Come and enjoy the charm
Bouches-du-Rhône
For your camping holidays on the Côte d'Azur, our establishment welcomes you to the picturesque village of Ceyreste, an ideal starting point for discovering the creeks of Cassis, the port of Cassis and the Provençal coastline, known among other things for its so-called alleys with carabotes and its Roman well.
Provence is located in the south-east of France between the Mediterranean Sea and the Alps. Many vacationers come to visit this beautiful region to explore its natural beauty, enjoy leisure activities by the sea or take walks in the mountains and Provence. Have you ever tasted Provençal cuisine? One thing that makes Provence so charming and popular is all of its wonderful cuisine. In Cassis, you can taste Bouillabaisse, aioli and fish soup, very tasty dishes!
In our campsite in PACA region, you will stay in the middle of a pine forest with a view of the Gulf of La Ciotat, a campsite 4 km from the beaches of La Ciotat in a majestic natural setting to enjoy the most beautiful landscapes of Bouches-du-Rhône during your vacation, and in particular the beaches and coves of Cassis.
One of the oldest destinations in France, Provence is a perfect destination for nature lovers. The area has beautiful beaches, incredible hiking trails and old towns to explore
Camping Cassis seaside with swimming pool in Provence Alpes Côte d'Azur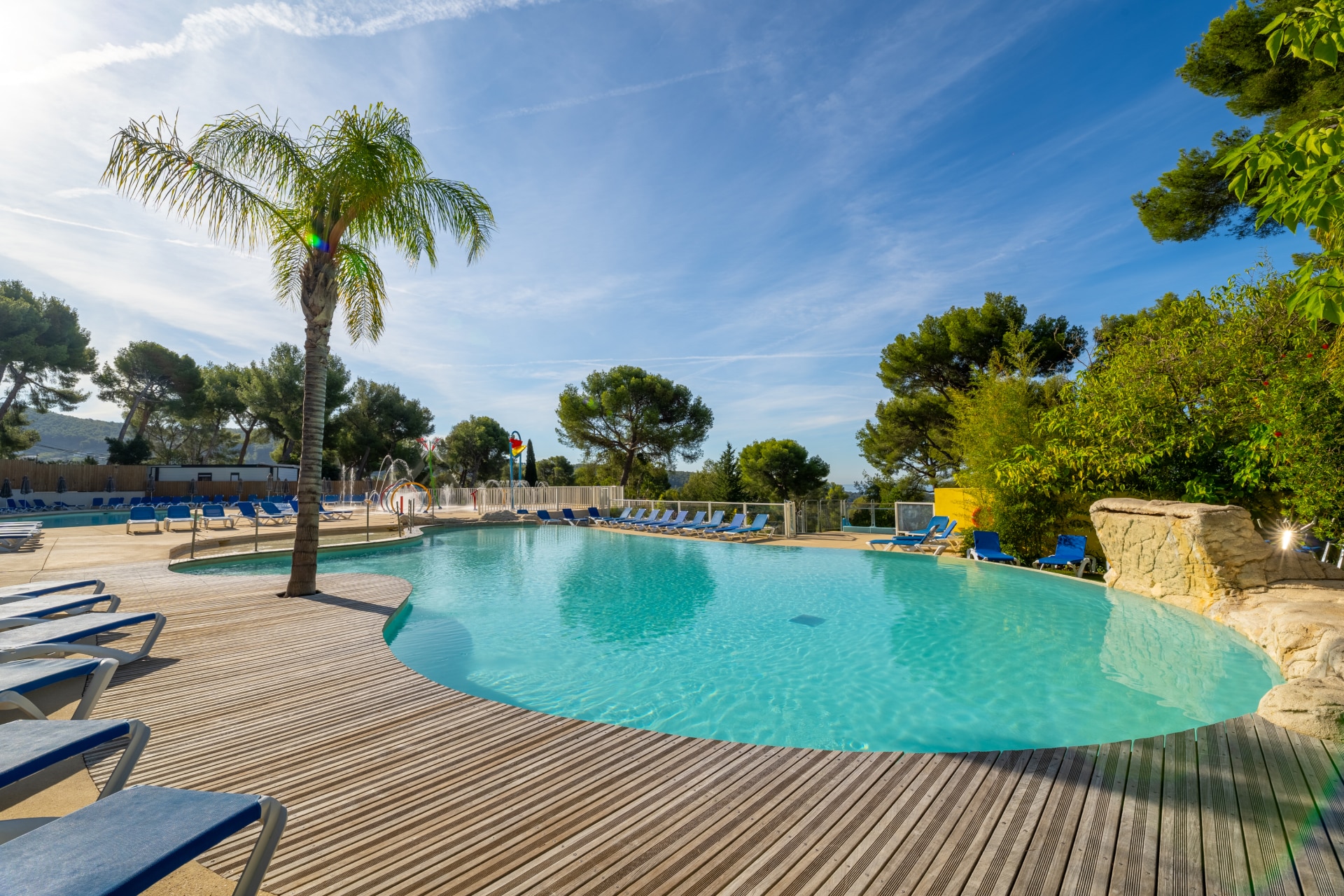 Cassis campsite with swimming pool
By choosing the Ceyreste campsite between Cassis et La Ciotat, take advantage of the nearest beaches or coves for a swim in the Mediterranean Sea. You can also cool off in the campsite's aquatic area under the Bouches-du-Rhône sun.
At the campsite in Provence Alpes Côtes d'Azur, many discoveries and walks are available to you. Admire the Sainte Victoire mountain, the Garlaban massif, or the town of Aubagne and Aix-en-Provence. Relax on one of our deckchairs by the pool while the children have fun in the paddling pool and make the most of your vacation in the PACA region. The infinity pool is heated. Race with friends or family on our multi-track water slide!
MOBILE HOME RENTAL BETWEEN LA CIOTAT AND CASSIS
The Ceyreste family campsite in the Bouches du Rhône offers you various comfortable mobile homes for a pleasant holiday by the Mediterranean sea near Cassis. We also offer lodge tents, ideal for a stay with family or friends.
Tired of searching for prices, offers and quality of hotels? Rent a mobile home and enjoy the best vacation of your life! Enjoy the Côte d'Azur while camping. We offer mobile home rental in Provence and on the Côte d'Azur for your holidays. Mobile homes are available to rent for a stay or a weekend at our campsite near Cassis and La Ciotat. They are equipped with a kitchenette, a bathroom, a double bed and 2 single beds.
Cassis mobile home rental in our 4-star campsite
The 4-star campsite, a real holiday residence, located halfway between La Ciotat and Cassis, accommodates you in a park made up of 116 rentals, adapting to everyone's needs. Whether you are going on vacation as a couple, with friends or family to the Ceyreste campsite, a wide choice of rental accommodation is available to you. Choose the ideal mobile home for an unforgettable and comfortable camping stay near Marseille in Bouches-du-Rhône. Mobile homes with a capacity ranging from 2 to 6 people and consisting of one to 3 bedrooms are available for rental. The choice is yours! Check out the campsite's attractive rates.
4 STAR SERVICES NEAR CASSIS AND LA CIOTAT
The Ceyreste campsite is the ideal place for a calm and relaxing holiday in Provence with a view of the Gulf, not far from Cassis and La Ciotat. Take advantage of our 4-star services during your vacation. We offer on-site catering on the terrace with a choice of hot dishes, pizzas and snacks. We provide numerous services to accommodate your stay: barbecue rental, baby kit, laundry, refrigerated box. Ceyreste also offers activities for children in July and August and sports activities. Every holidaymaker will find what they are looking for: football tournaments, aquafun sessions, welcome drinks, bouncy castle, activities for children… Not forgetting pétanque, table football, playground, swimming pool with slide and the many activities near the campsite.
4-star campsite in Bouches-du-Rhône
Rated 4 stars, our La Ciotat campsite with swimming pool welcomes you on its 3.5 hectare plot. We offer a total of 160 locations, including 116 varied rental accommodations, waiting for you to stay comfortably with family or friends.
Our staff is there to ensure that each client has a pleasant vacation.
Choose the Bouches-du-Rhône department for your next camping vacation rental! Breathe happiness under the Provençal sun in the land of Pagnol and the creeks, a tourist hotspot in Cassis!
Please note, however, that the hilly campsite will make access to the campsite difficult for people with reduced mobility.
Discover Provence
Discover the most beautiful region of France, our Cassis campsite in Provence, a stone's throw from the Calanques of Marseille Cassis. Stay in the Var at the gates of the Côte d'Azur and take advantage of its wonderful assets for a holiday 100% under the sun and the song of the cicadas in Provence Alpes Côte d'Azur!
Stroll through the magnificent towns of Cassis – La Ciotat – Marseille – Aix-en-Provence.
Discover Cassis
Cassis is a small, picturesque town in the south of France, relatively close to Marseille. It's on the French Riviera, a stunning region where you can experience the stunning Mediterranean coast. The fishing port of Cassis is worth exploring, with its fish market and restaurants overlooking the seaside, fishing boats and yachts moored there. Cassis is a charming little town that is best explored on foot. The old port and the streets of the Old Town are very romantic. Walk past the shops lining the street and stop for a coffee on one of the terraces near the port. You will find beautiful art galleries and shops with an original atmosphere!
Cassis or La Ciotat?
You will find the natural beauty of Cassis and the cultural richness of Marseille in Provence. La Ciotat beach is a popular destination for locals and tourists alike. With its crystal clear waters, sandy shores, coastal walks, fishing villages and excellent seafood restaurants, it's no wonder people choose to stay here for their vacation.
Admire the breathtaking views on a boat or kayak tour or let your hair fly in the wind by renting a stand-up paddle board. Your trip will not be complete without hiking in the coves of Marseille Cassis then going down to the magnificent beaches below.
Discover the region and enjoy your holidays in the Côte d'Azur