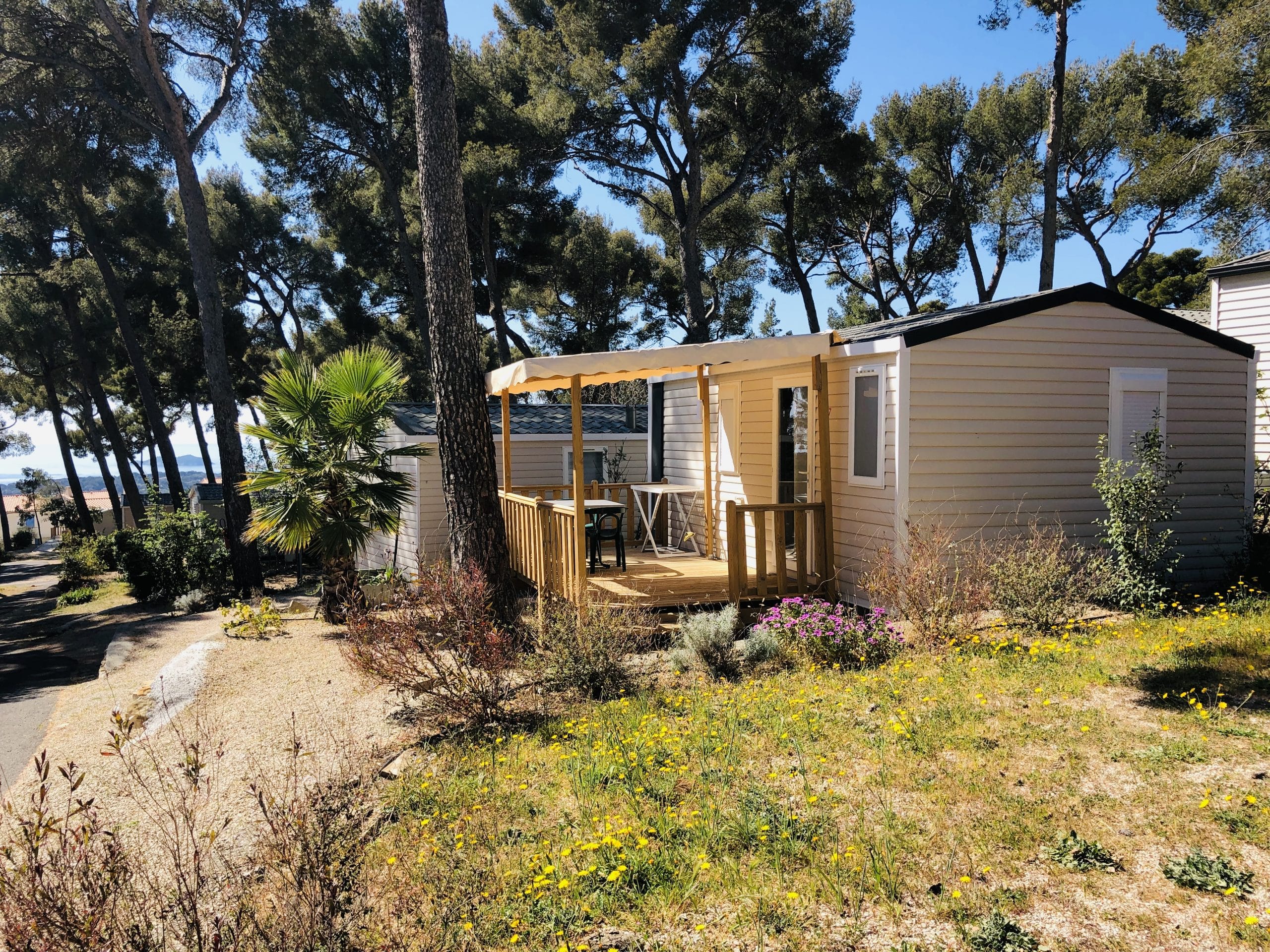 Quality comfort accommodation

top of the range mobile home
Stay at our 4-star campsite
The 4-star Ceyreste Campsite (ideally located in the Bouches du Rhône near Ciotat, 3 km and 12 km from Cassis) offers different types of accommodation for camping holidays as a couple, with family or friends. A wide choice for a guaranteed comfort rental. Our mobile homes for rent are installed in harmony on our campsite. In a natural setting in terraces, ideal for a calm and relaxing stay.
A wide choice for a comfortable rental
Among our 116 rentals, you will have the opportunity to choose a rental with different levels of equipped comfort:
1 to 3 bedrooms
A bathroom
WC
A kitchen with microwave
A stay
Provision of crockery
Garden furniture
Arrivals and departures
Arrivals in High Season (01/07/2023 to 25/08/2023) are made (arrival / departure) on Wednesday, Saturday and Sunday (minimum 7 nights). In Low Season, rental can be done per night (free arrival / departure) for a minimum of 2 nights. Consult all the good deals and promotions on rentals.
The campsite opening times are as follows
For mobile home rentals from 01/04/2023 to 01/11/2023.
For the rental of a camping pitch for a tent, caravan or campsite: from 01/04/2023 to 01/11/2023.
Do not delay any longer, discover each of our rentals in detail or consult our accommodation pages and book your holiday rental without further delay with the Ceyreste campsite. Also discover the camping-caravanning pitches in La Ciotat. Cash, credit card are accepted.
Mobile home for 2 to 4 people
High quality accommodation
Do you want to spend your next vacation in a top-of-the-range campsite in the Bouches-du-Rhône near the Mediterranean to reconnect with nature and enjoy the comfort of a luxury hotel while keeping your budget under control? Rent a fully equipped luxury mobile home! Our mobile homes for 2 to 4 people are aimed at couples and families with 2 children who are looking for a comfortable stay at the best price. The Ohara mobile home (1 bedroom, 2 people) is ideal for a romantic getaway between Cassis and La Ciotat. You will find your daily privacy in your rental and will be able to walk hand in hand in the tree-lined paths of the campsite. Want to get out of your bubble? Free access to the water park and all the campsite facilities. Are you traveling with the family? Choose one of our 2-bedroom mobile homes.
All our mobile homes have 1 or 2 bedrooms (including a master bedroom with double bed), a living room, a fully equipped kitchen (crockery for 2 to 4 people, hotplates, refrigerator, microwave), a bathroom and separate toilets. Their modern finish and their compactness (20 to 24 m2) will seduce you upon your arrival. They are also very functional and well appointed to offer you several living spaces. Our standard models, which come in comfort and comfort plus, also have a semi-covered terrace, ideal for dining outside and relaxing under the Provençal sun.
All of our pitches are spacious and separated from other sites by natural hedges. You can park your vehicle there and your children can have free time in front of their holiday home, in their private garden.
What are you waiting for to consult our offers and book now your mobile home rental for 2 to 4 people in the Mediterranean at low cost? For a successful holiday at the Ceyreste campsite, you will find different types of accommodation for 2 to 4 people. Consult the good plans on the rental of this mobile home. In all our mobile home rentals, we provide you with crockery and outdoor garden furniture for your moments of relaxation!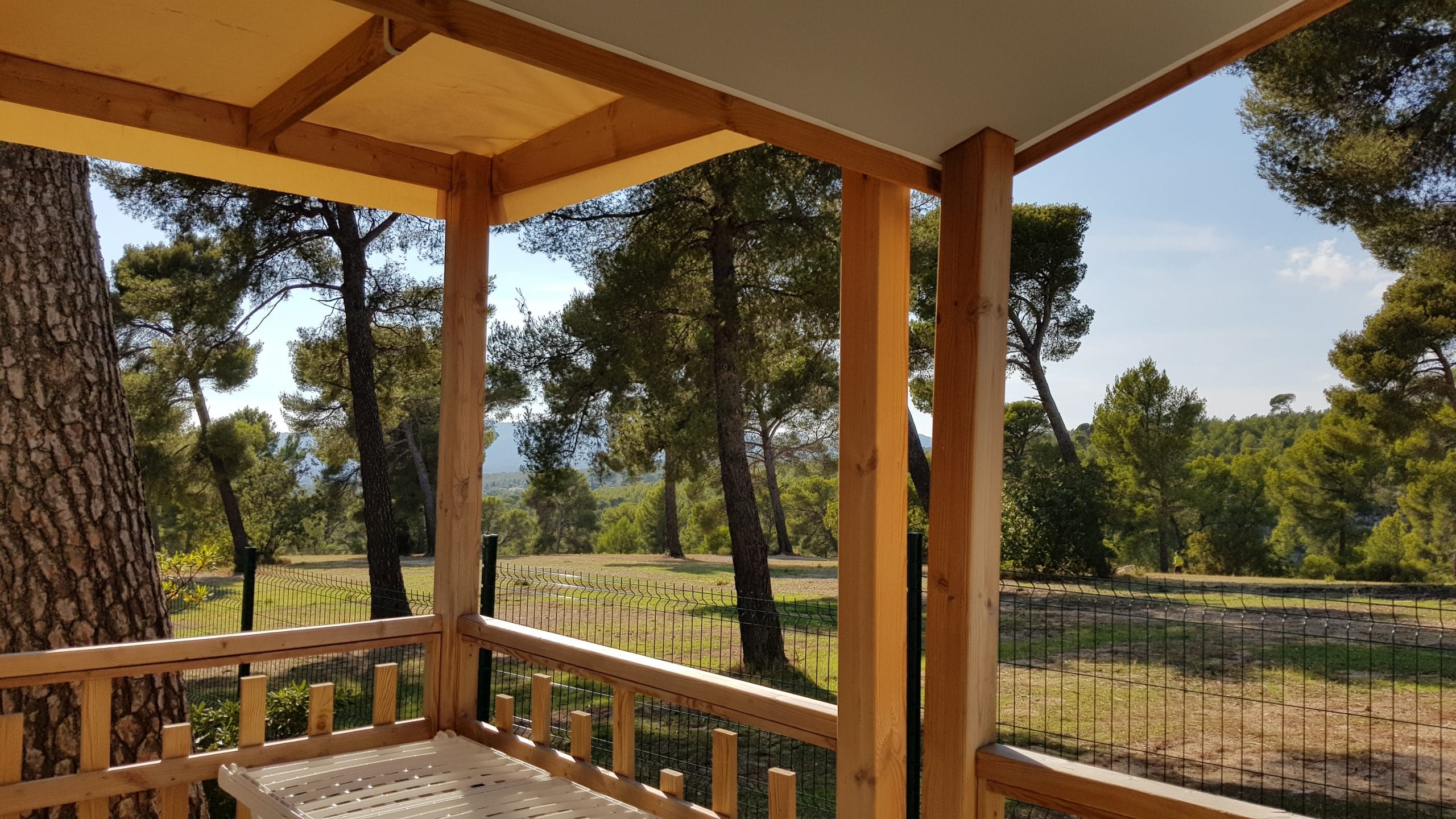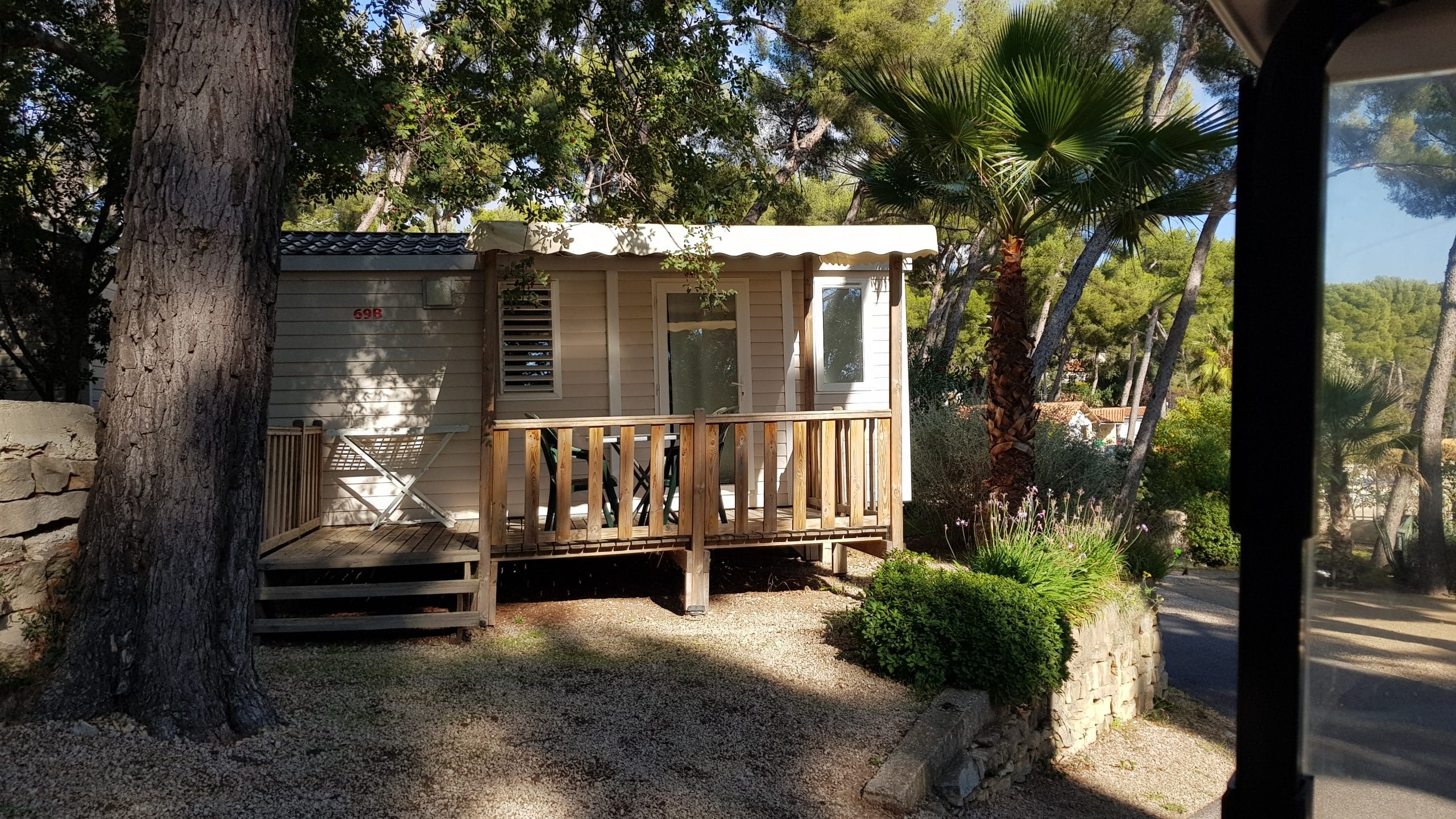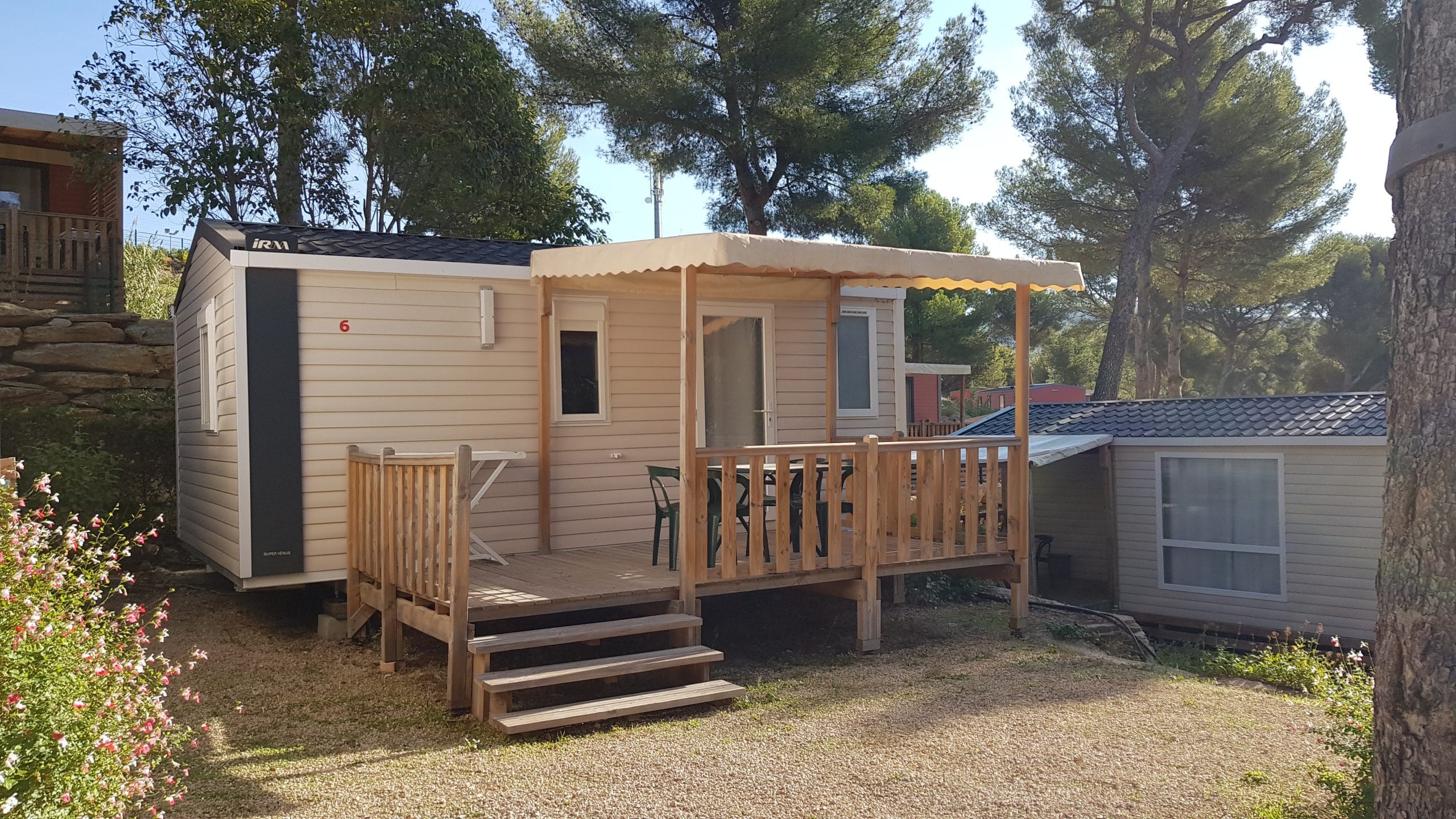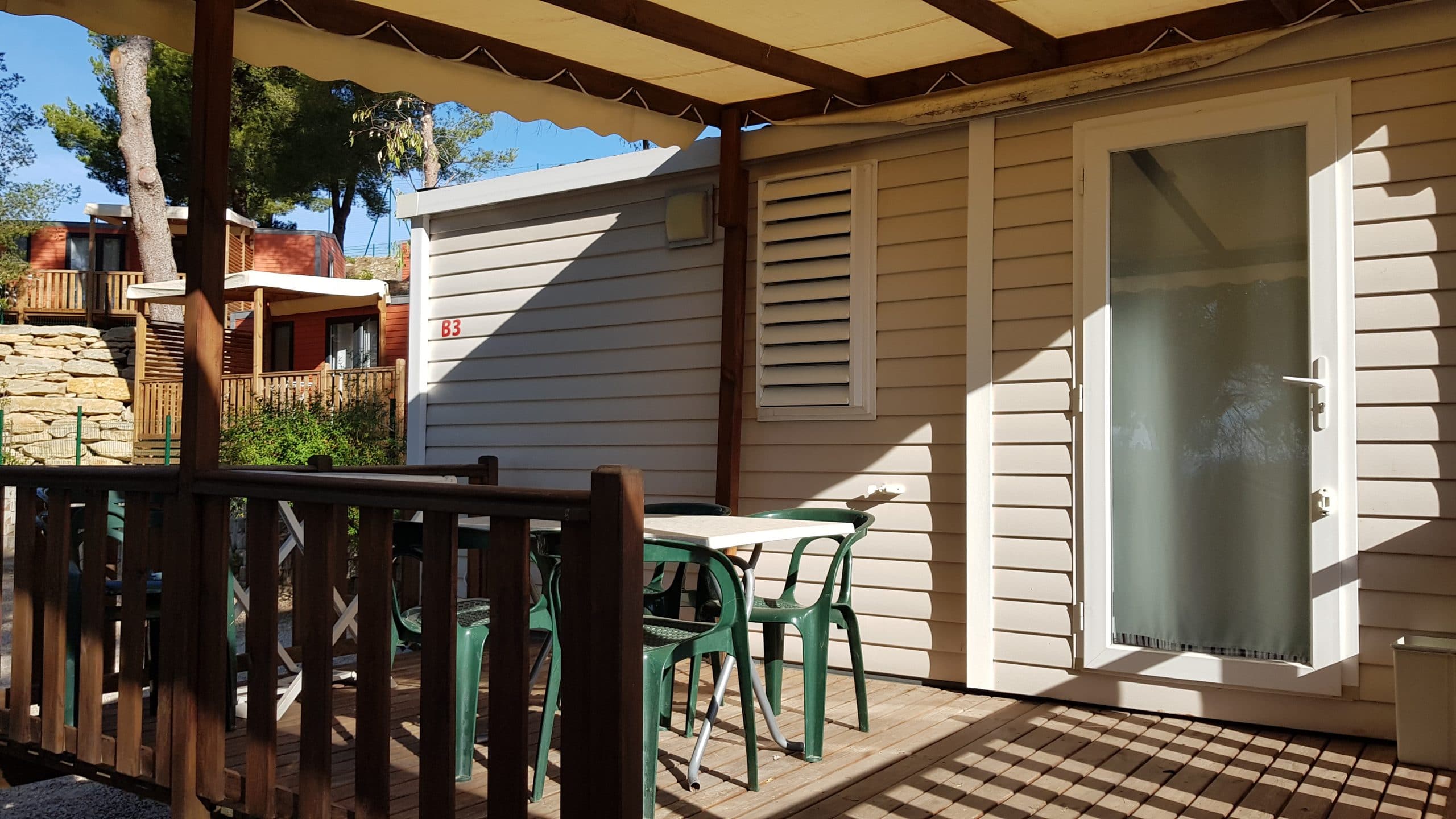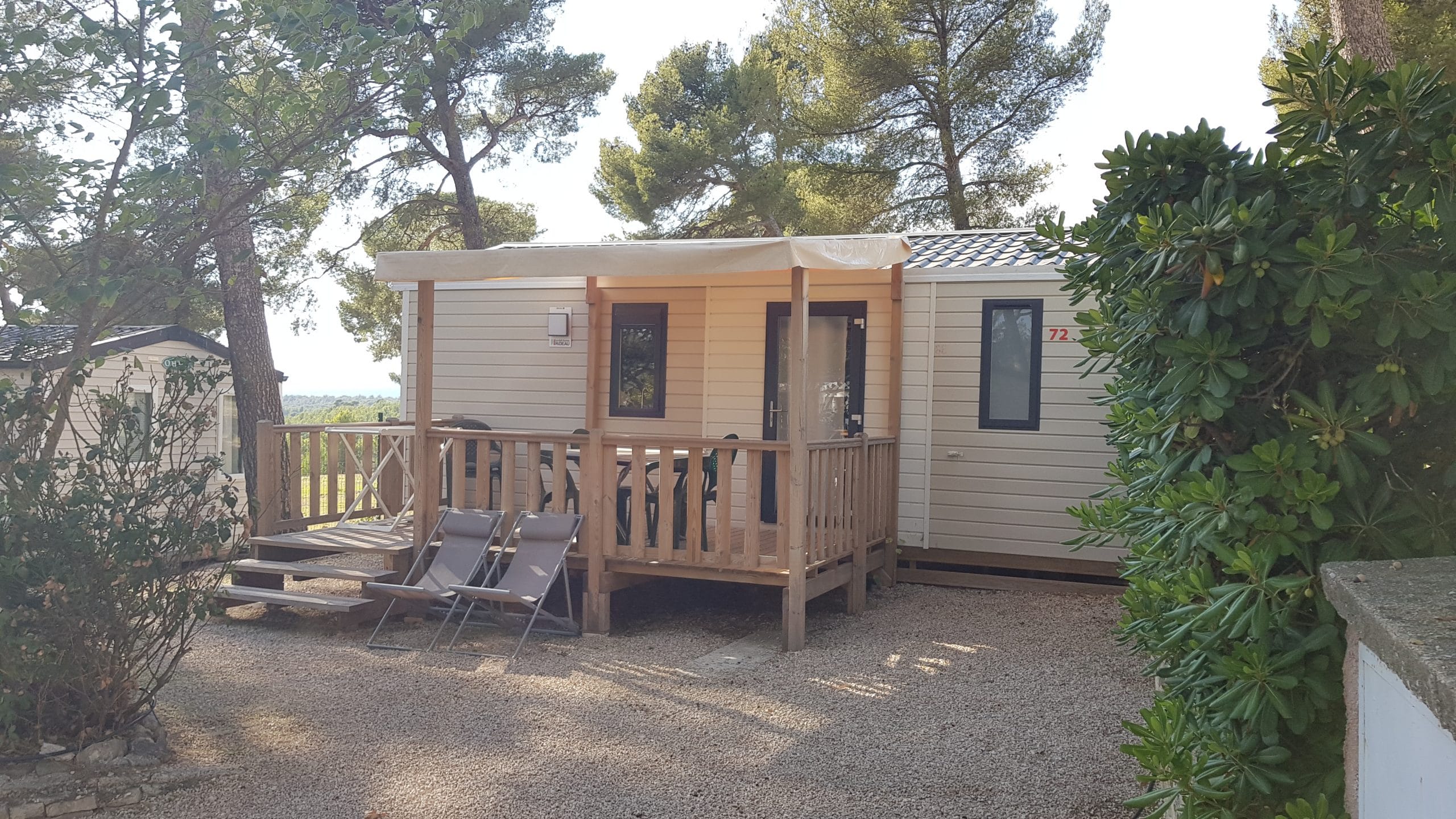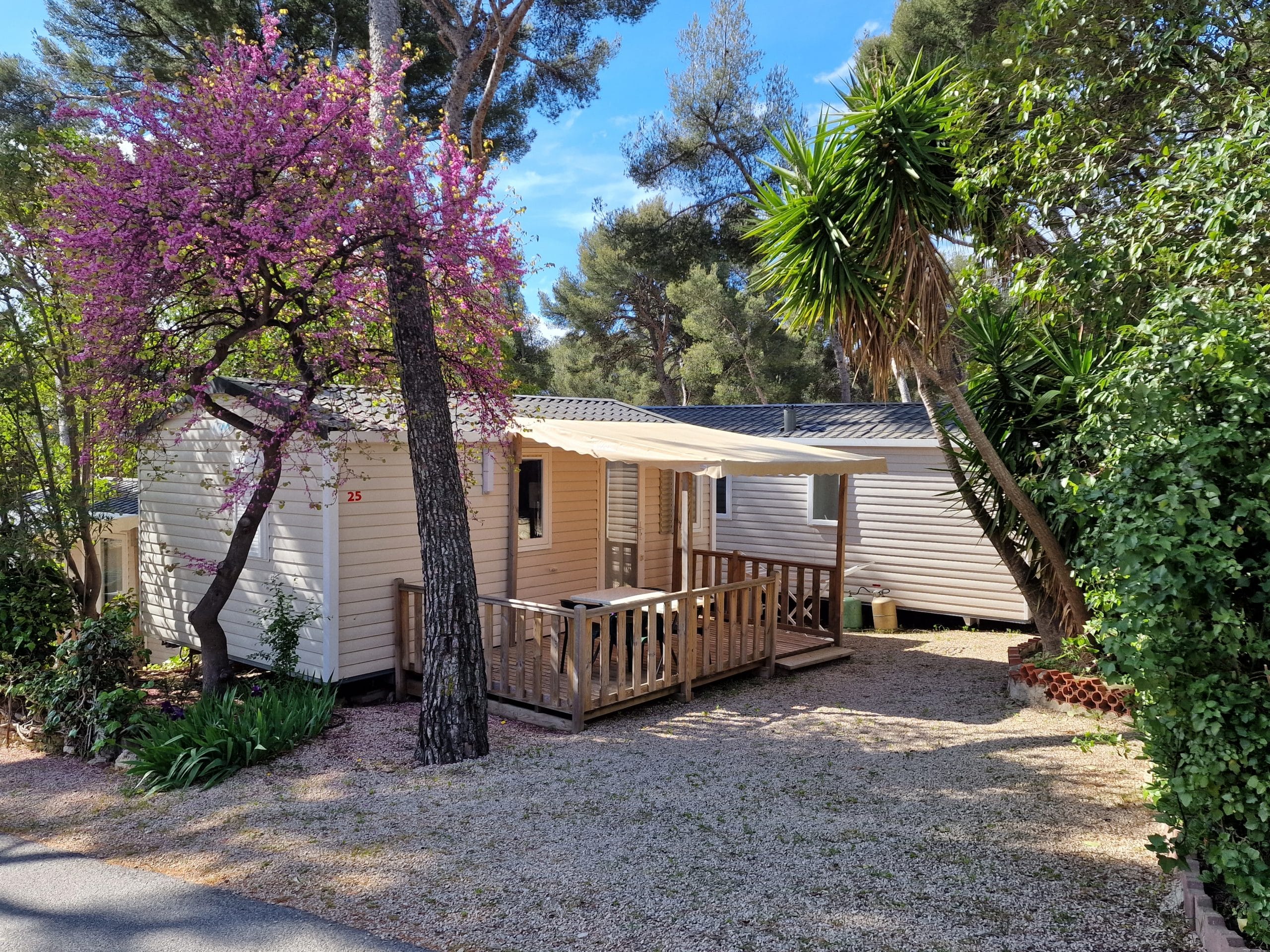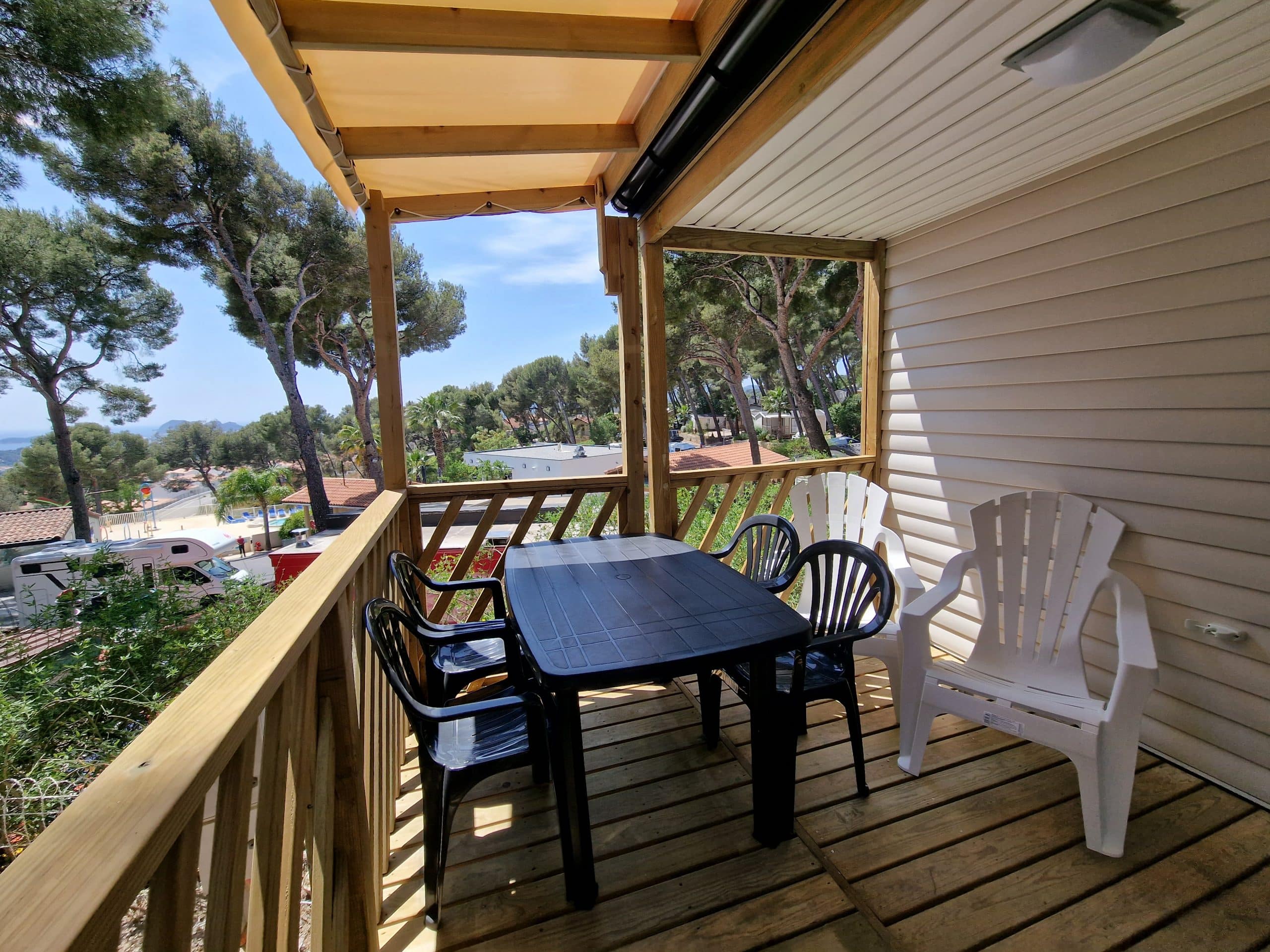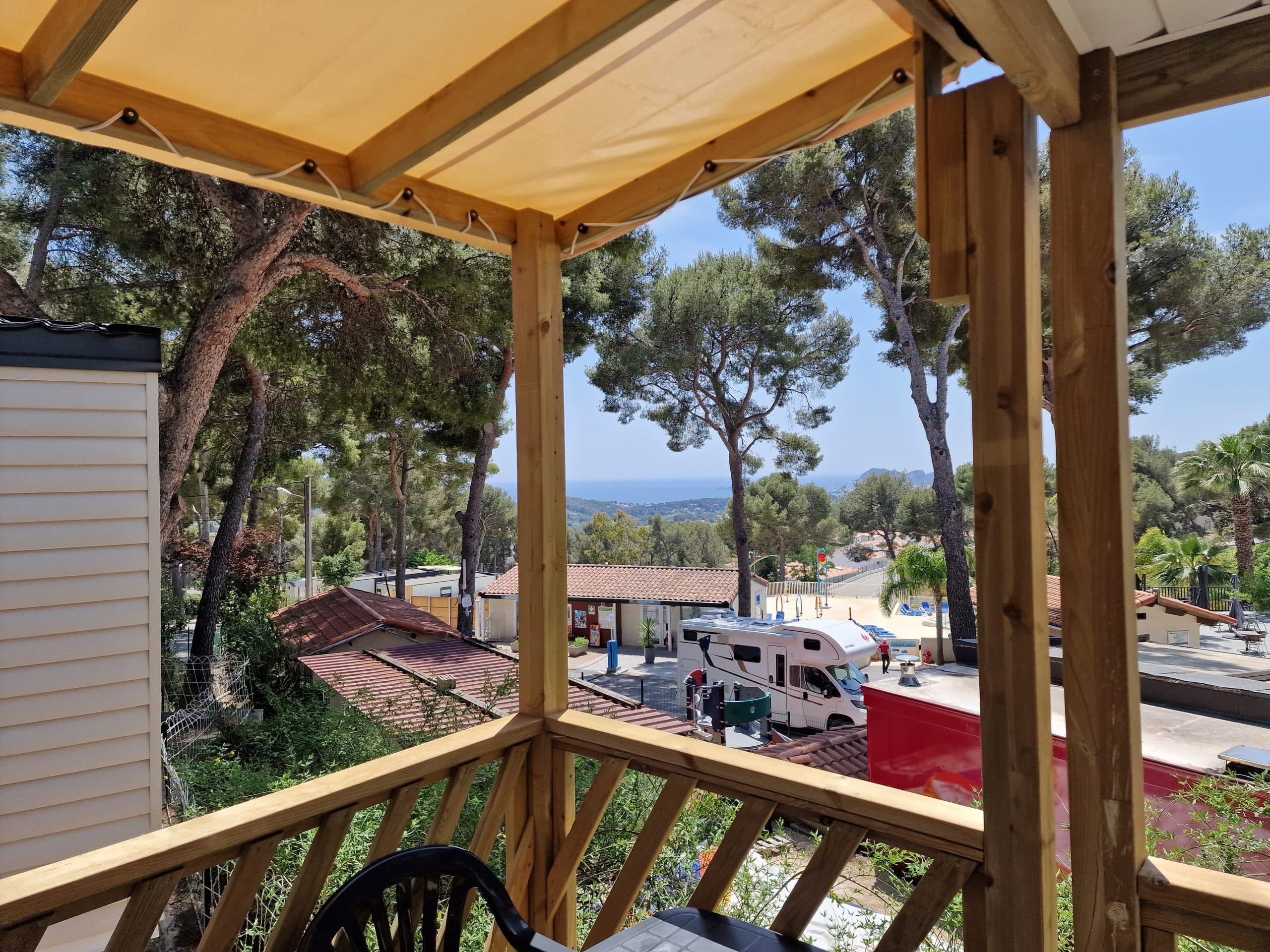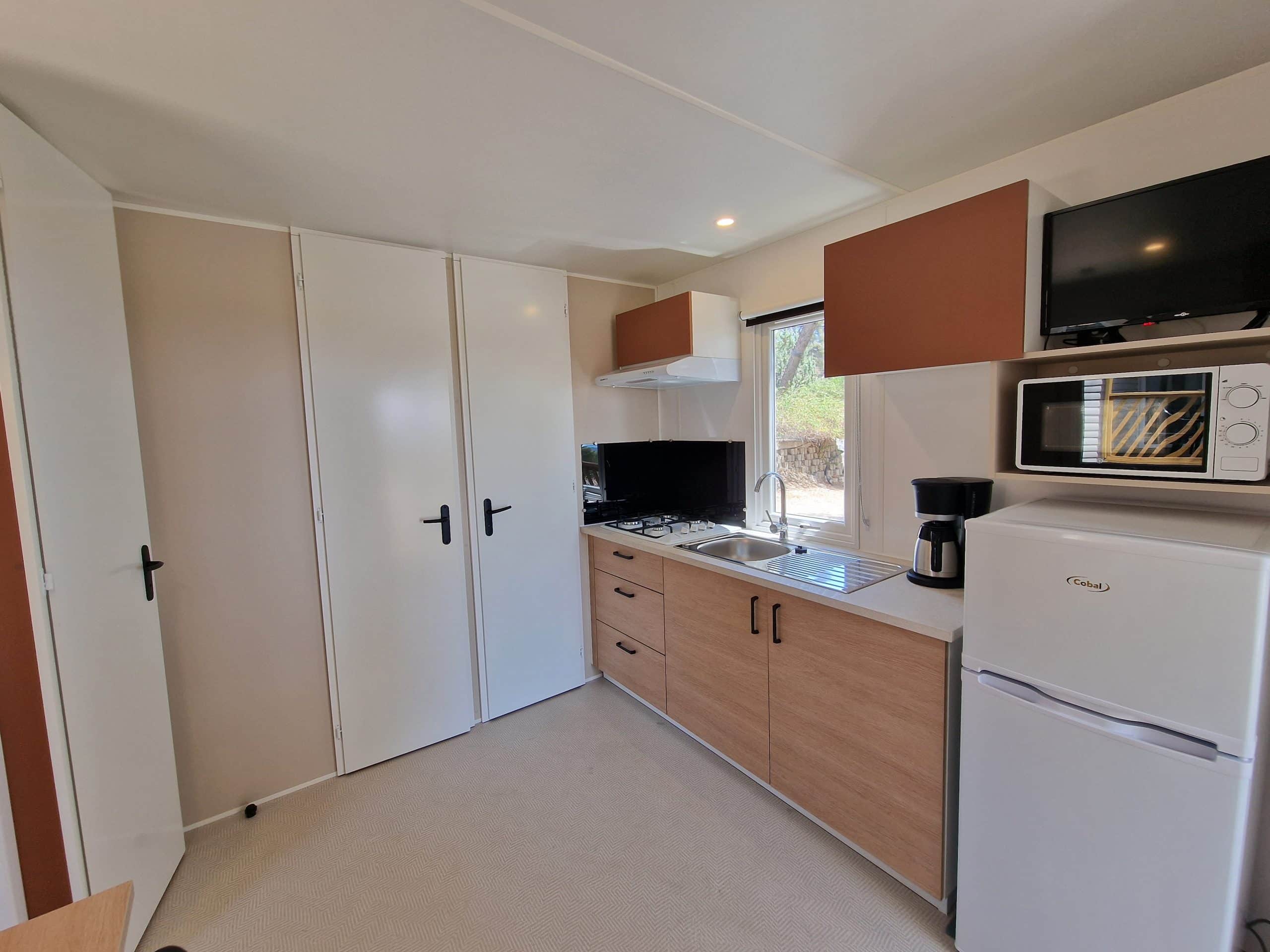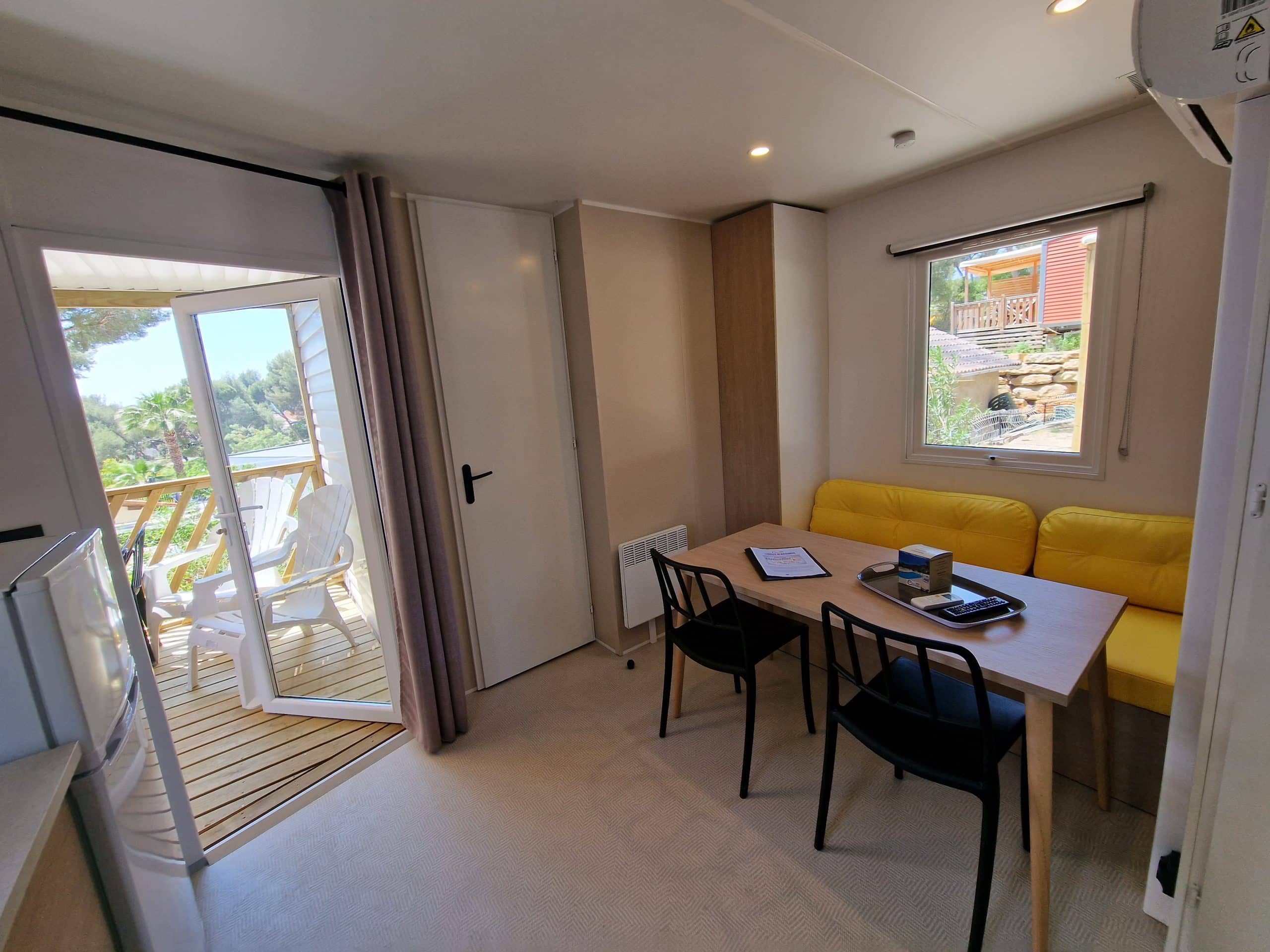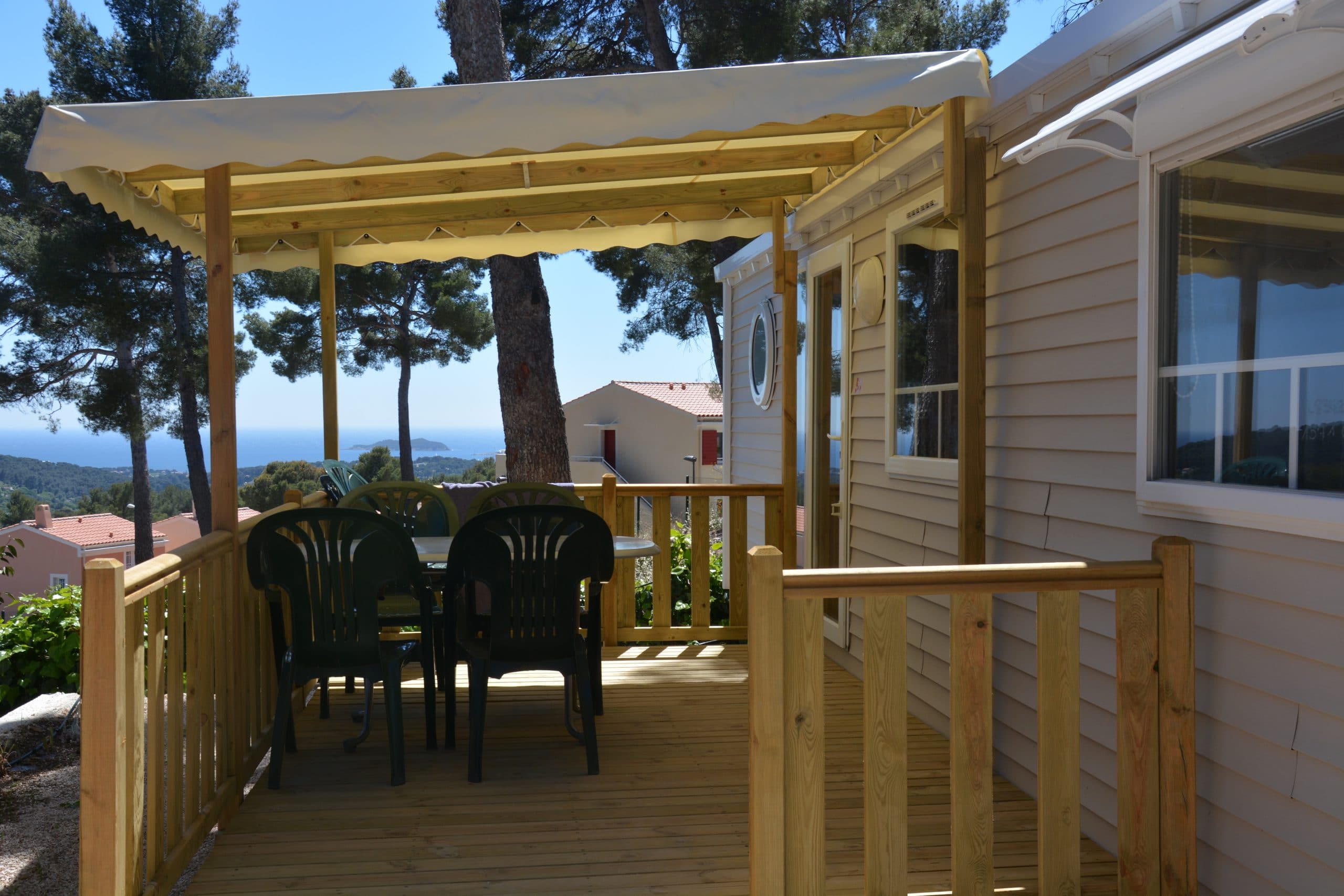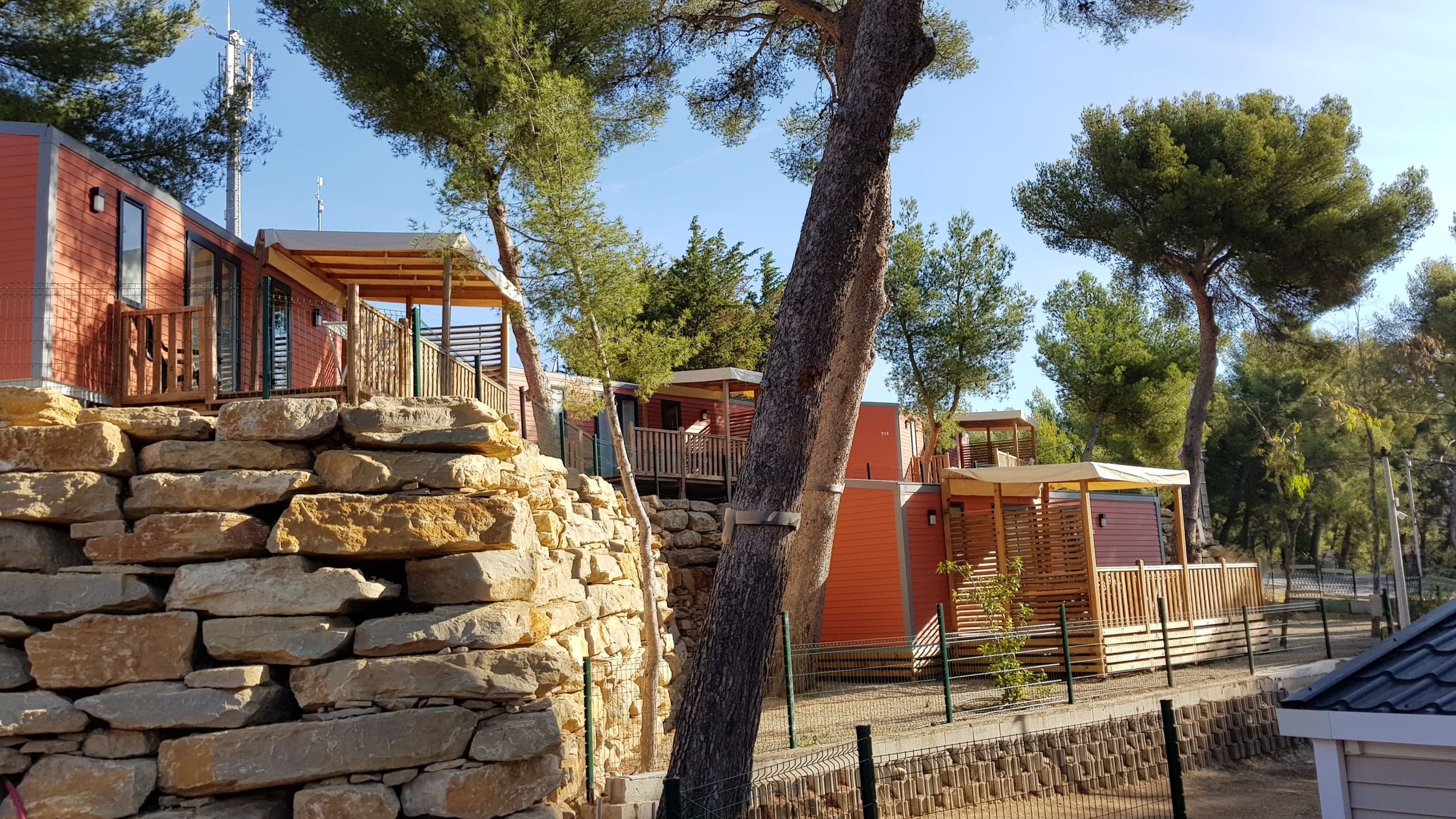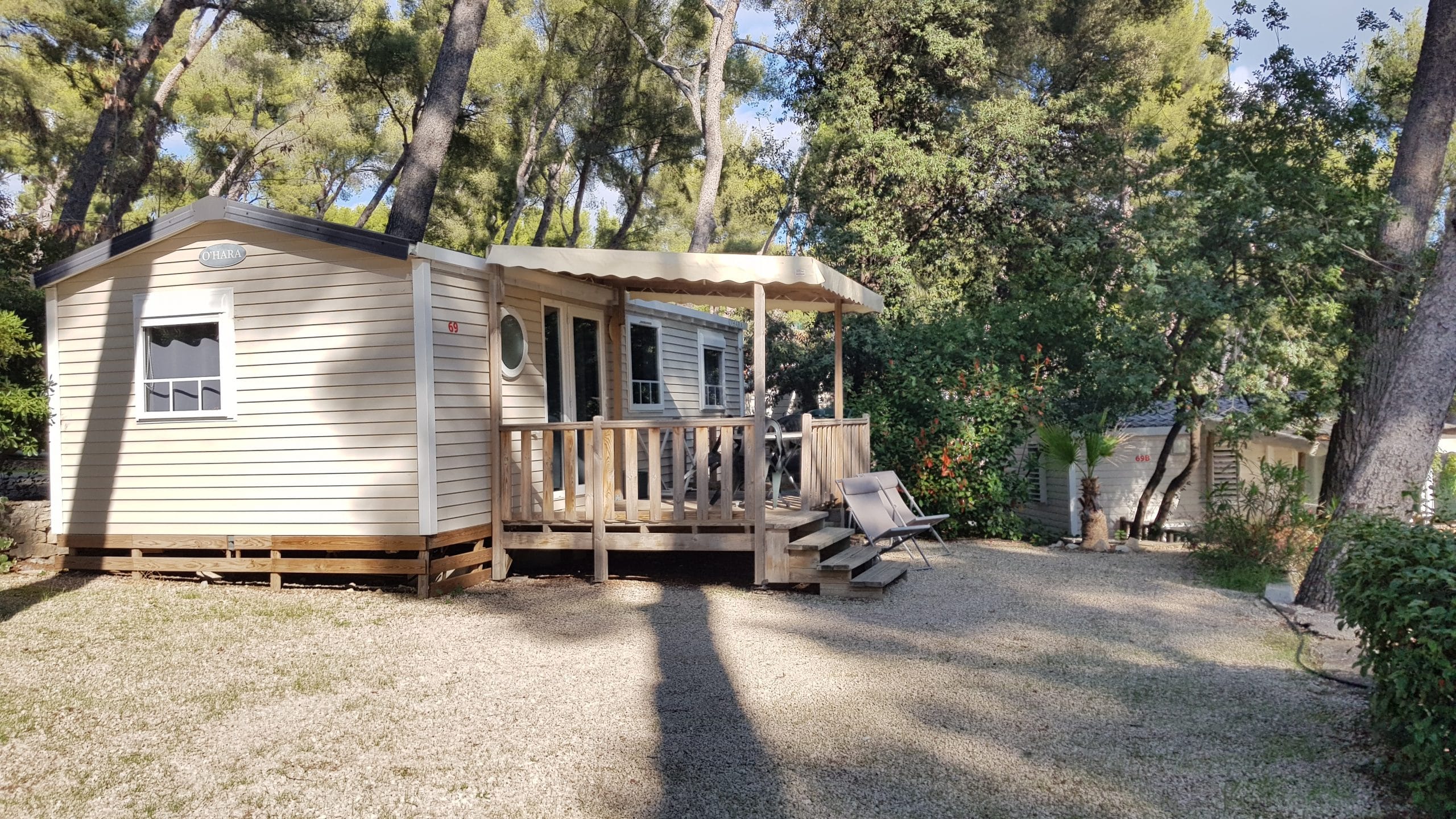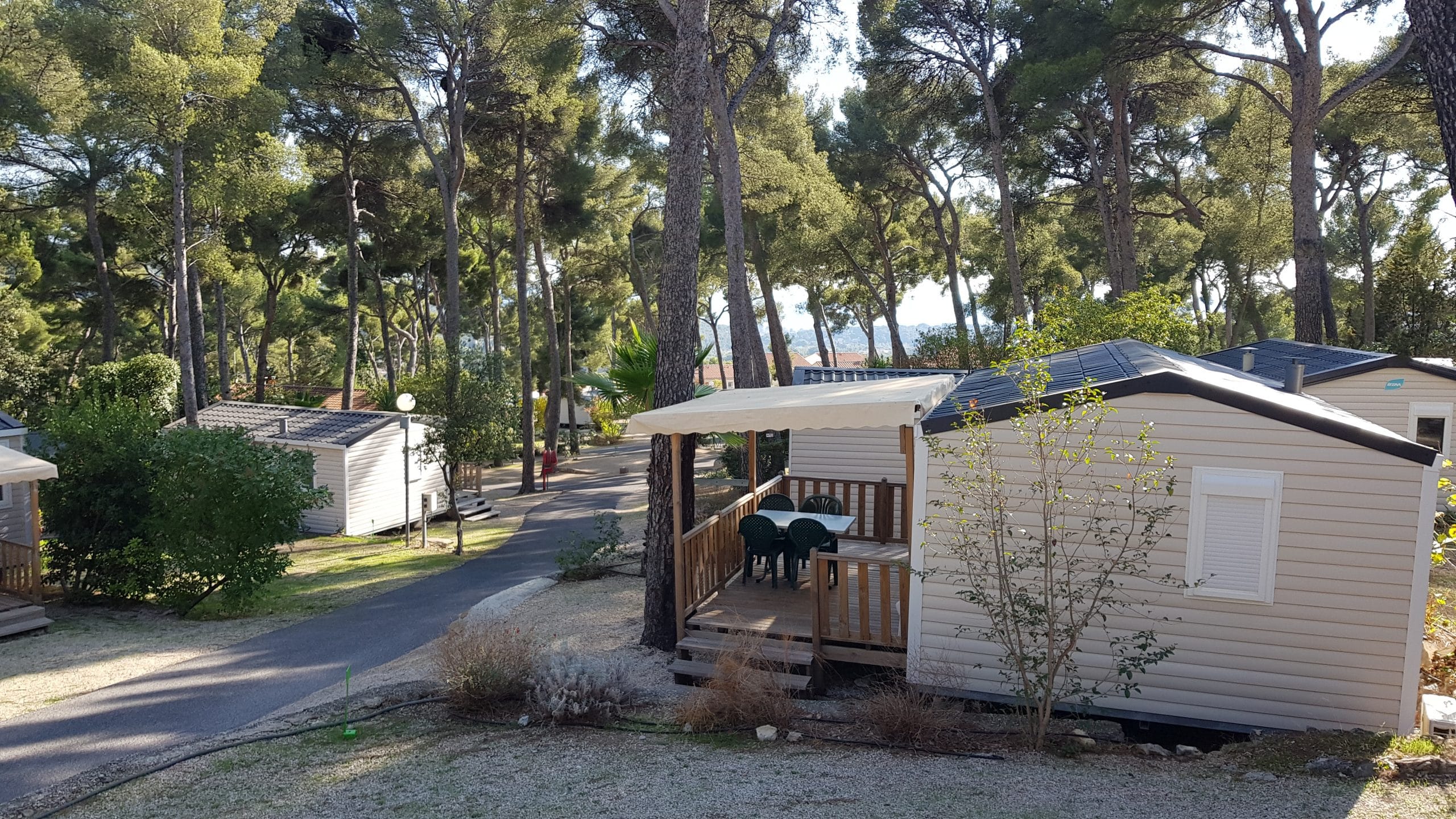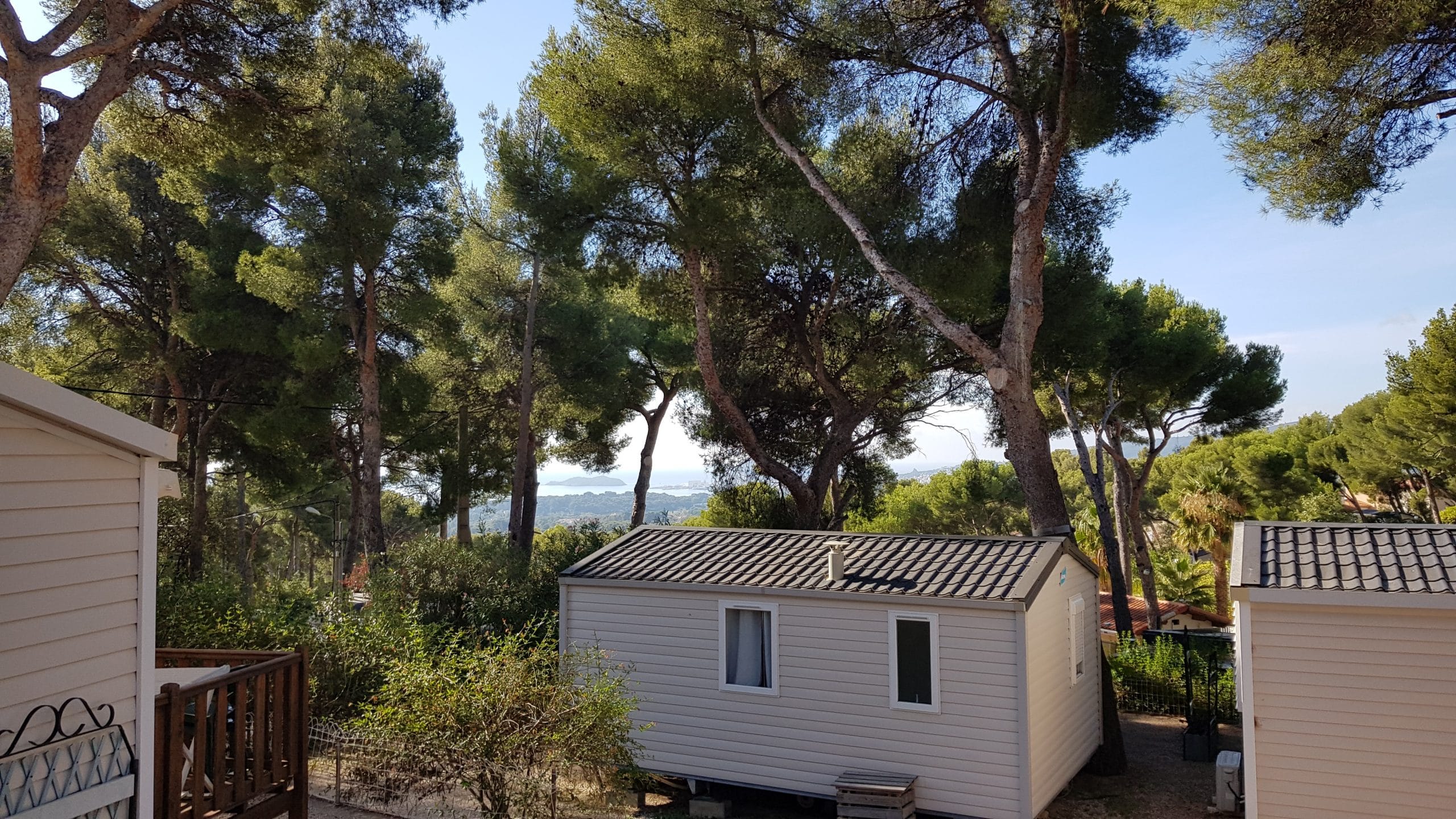 Mobile home for 4 to 6 people
At the Ceyreste campsite near Cassis, we try to meet the needs of all our visitors. To satisfy those of large families and couples of friends, we have selected several models of mobile homes for 4 to 6 people. The comfort of a fully equipped, inexpensive mobile home in Provence can convert a pleasant holiday into an unforgettable one. Have you just collected the keys to your mobile home at reception? Leave your suitcases on your private terrace and take the time to explore the interior of your rental. You will be pleasantly surprised by its excellent layout, in particular the main room with its bright living room and its kitchen with its crockery and equipment: hotplates, refrigerator, microwave, electric coffee maker … Our mobile homes for 4 to 6 people are available. air-conditioned. They have separate bedrooms (one bedroom with double bed and two bedrooms with two single beds each), a bathroom and WC.
Have you taken possession of your prestigious mobile home? Have your children put their things on their beds and put on their swimsuits to have fun in the heated swimming pool? Before going to swim your swimming lengths with them, take the time to relax on your private terrace. A semi-covered terrace with garden furniture and sun loungers is a very valuable outdoor living room during a camping trip in a sunny region like Provence. It allows you to take your meals outside, to read your book in peace and to recharge your batteries after your nautical activities and your bike rides in a relaxing setting, in the heart of our wooded area of ​​nearly 3.5 hectares. Dining room, reading room, wellness area, solarium, astronomical observatory: make your private terrace your meeting place with multiple uses! Also discover all the promotions for renting this accommodation. As a couple, with family or friends, come and discover our wide choice of mobile homes for guaranteed comfort. Find all our rentals on the Mobile home rental in La Ciotat page.